DigiCube MIDPhone-50: 3.5G handheld PC with voice [Video]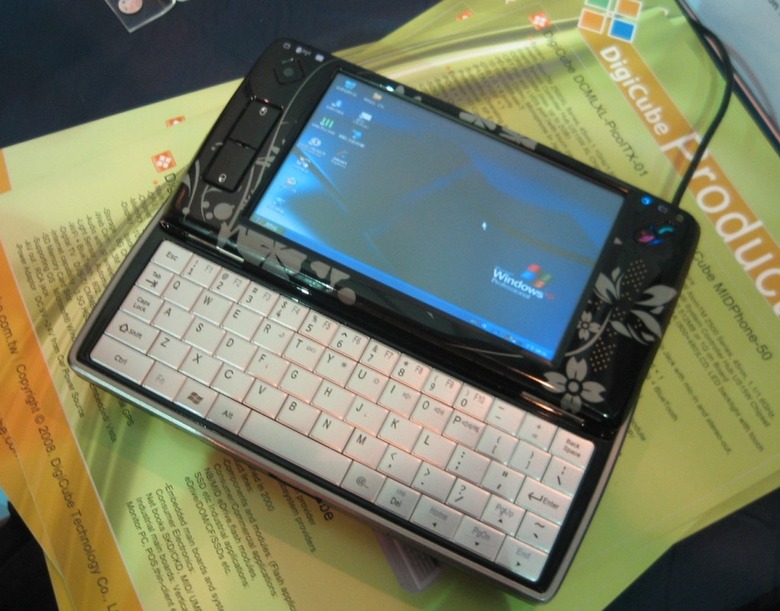 Computex keeps throwing up unusual mobile devices, and the latest to cross the wire is this, the DigiCube MIDPhone-50.  As the name suggests, the MIDPhone-50 blends both a mobile internet device – complete with Windows XP – and a 3.5G cellphone, complete with a tilting touchscreen and full QWERTY keyboard.  Jkkmobile was on hand to grab some photos, plus a video which you can see after the cut.
Video demo after the cut
The device has a 4.8-inch 800 x 480 touchscreen, front-mounted webcam and a capacitive touchpad: the flower-patterned area of bezel to the right of the display is actually touch-sensitive and used for navigation.  Ports include mini-USB, standard USB, a headset socket and a microSD card slot; there's also a docking station which has a VGA output, more USB ports and a battery charger.
Battery life is rated at around two hours, which is pretty low for a MID and very low for a smartphone.  It comes with Bluetooth and WiFi, and uses an Intel Atom Z-series processor with 512MB to 1GB of RAM.  More images of the MIDPhone-50 at UMPC Portal.