Psion countersue Intel: demand damages & netbook.com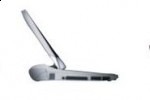 Psion have countersued Intel over the controversial "netbook" trademark, looking to back up their recent claims to have not abandoned the term with sales figures.  The countersuit requests a jury trial rather than a court decision, and demands not only preservation of the trademark but the netbook.com domain and financial damages.
Those damages are to be calculated according to the profit it claims Intel has made through misuse of the netbook trademark.  While sales figures may be able to dismiss claims that Psion abandoned the trademark, it seems less likely that either a jury or a court will buy the company's assertion that "netbook" is synonymous with the Psion Netbook Pro.
In the gallery below: Psion's current flyers for the Netbook Pro, which the company claims is still seeing significant sales among vertical markets.  Courtesy jkOnTheRun.