PS3 Slim launch gains ground as Sony Japan kill 80GB PlayStation 3 [Updated]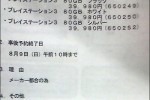 We may receive a commission on purchases made from links.
A leaked memo to a Japanese retailer warning that final orders for the 80GB PlayStation 3 must be placed before Sunday August 9th has added fuel to the expectation that Sony will soon launch the PS3 Slim.  According to the notice, retailer 7-Eleven has also been told to take down in-store displays for the 80GB model.
The move will leave the 160GB model the only commercially available PlayStation 3.  The 80GB model is expected to be replaced with the 80GB PS3 Slim, a listing for which briefly made an appearance on Amazon Germany's website last week (though without images, release dates or pricing).
7-Eleven's supplier suggests that the 80GB PlayStation 3's demise is at Sony's request.  The company themselves have denied a new PS3 is in the works, while the OEM at the center of the leaked box-art back in May issued a cease & desist notice to some sites featuring the images. 
Update: Sony have cut $50 from the 160GB PlayStation 3 bundle through retailer Amazon, while RTLinfo are reporting that European retailers have been told to expect a €100 price cut on the 80GB version of the console.  The assumption is that Sony will announce the PS3 Slim at the gamescon expo in Cologne, Germany, on August 18th. 
[via Engadget]