Prometheus "terror" trailer brings spoilers galore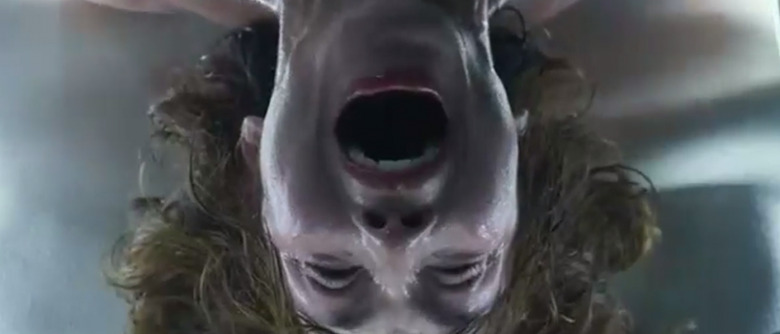 This week a trailer has been released of Prometheus – the Ridley Scott Alien universe movie coming out this summer – which shows more than its fair share of terrifying elements thus far kept under heavy wraps by the company. The company I'm speaking of is not Weyland Industries, but it may as well be since the press materials released for the movie up until now have been a straight up graphic design fantasy straight from the minds of the future science industry which will be sending our heroes to a far away planet to explore our past.
What you'll see in this spoiler-heavy trailer is not just some rumblings in the tummy of one of our main characters here in the upcoming blockbuster, but the insertion of an alien into the body of a character as well. Right in through the mouth. It is not recommended that you have a full stomach before you watch this film, as it will soon be empty if indeed you did – it will be a past-tense sort of situation. Remember here once again that this trailer may well spoil some of the surprise for you if you're unaware of the content of the film, and if you want to be completely horrified in the movie while you're at the theater, you should skip watching this trailer.
[vms 4094fe9e0bc1de3f94ed]
Next, have a peek at some more of the film's viral marketing in a bit of text taken from a "training program" for the Weyland Industries Prometheus mission. You can also access this text via the Prometheus official website at https://www.weylandindustries.com/. Beware the artificial people, and check out the risks before you dive in.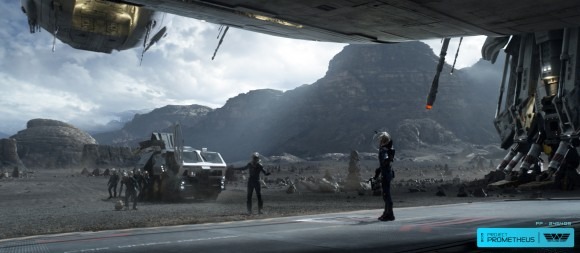 Weyland Industries and its subsidiaries, including but not limited to Project Prometheus, are not responsible for any injuries or damage sustained during Project Prometheus training exercises. All participants voluntarily take full responsibility for understanding and accepting all risks associated with Project Prometheus training, and release Weyland Industries from all liability related to said training fully and for all time. This release and hold harmless agreement additionally binds all participants' representatives (family, spouse, heirs, and assigns), whether the participant is living or dead.

Participants acknowledge and understand both the physical and mental risks associated with Project Prometheus training encountered in the Agility, G-Force, Situational Intelligence, Spatial Relations, and Prefrontal Cortex assessments, including but not limited to:

• GRAVITY-FORCE LOSS OF CONSCIOUSNESS

• DETACHED RETINAS

• BLINDNESS

• LIQUEFACTION OF BRAIN MATTER

• FUSING OF INTERNAL ORGANS

• HEART ATTACK

• DETERIORATION OF MINERALIZED TISSUE

• STROKE

• DISMEMBERMENT

• SUDDEN HEARING LOSS

• COMPOUND FRACTURES

• DIPTHERIA

• VOMITING BLOOD

• PERFORATED GALLBLADDER

• LEPROSY

• VIVID DREAMS

• EXSANGUINATION

• HYPOXIA

• ANXIETY

• THROMBOSIS

• CONCUSSION

• HEADACHES

• ASPHYXIATION

• HAND TREMORS

• BRAIN STEM HERNIATION

• LOSS OF APPETITE

• INSOMNIA

• DYSKINESIA

• PHOTOSENSITIVITY

• MUSCLE ATROPHY

• RHABDOMYOLYSIS

• PERSISTENT VEGETATIVE STATE

• TUBERCULOSIS

• AGEUSIA

• SEIZURE

• HEPATITI

• LIQUEFACTIVE NECROSIS

• ACUTE CIRCULATORY COLLAPSE

• NAUSEA

• GLAUCOMA

• MENINGITIS

• HIVES

• SEPTICEMIA

• DIZZINESS

• CHILBLAIN

• INABILITY TO CONTROL THE BLADDER OR BOWELS

• PARALYSIS

• DECAPITATION

• INTERNAL BLEEDING

• IMPALATION

• DISFIGUREMENT

• SUBDURAL HEMATOMA

• INCINERATION

• DEPLUMATION

• ORGAN FAILURE

• BONEITIS

• SCHIZOPHRENIA

• SYNESTHESIA

• PSYCHOSIS

• NEURALEPTIC MALIGNANT SYNDROME

• EMOTIONAL DISTRESS

• COTARD'S SYNDROME

• CAPGRAS DELUSION

• APOTEMNOPHILIA

• ANHEDONIA

Participant has read and understood the foregoing waiver and voluntarily signs it under their own free will.
Finally have a peek at our Prometheus timeline below, paying special attention to our interview with 3ality Technica, the folks behind the camera rigs that make the 3D experience with Prometheus possible. Let us know if you'll be seeing the movie as well!