Private Mission to Moon a go in 2017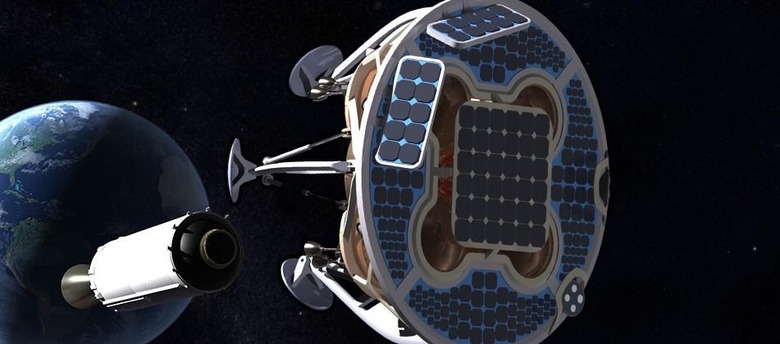 SpaceIL will be the first team of private citizens to have a lander reach our Earth's Moon if all goes according to plan – inside the year 2017. The team at SpaceIL have signed up with California's Spaceflight Industries to bring their craft to space in a SpaceX Falcon 9 launcher in the second half of the year 2017. If the SpaceIL team reach the moon first, they'll be the winners of the Google Lunar XPRIZE competition – which will give them $30 million dollars for the accomplishment. They'll also be just the fourth country to land a rover on our Moon.
The three countries to already have reached the Moon with their own landers are the United States, China, and Russia. SpaceIL are based in Israel, and are working toward winning the Google XPRIZE project with gear they've purchased using private donors.
This endeavor needs to be accomplished – according to Google's rules – without the assistance of governmental bodies. Private scientists, researchers, engineers, everything.
ABOVE: via Spaceflight "An illustration of SpaceIL's Spacecraft after detaching from the lander."
Once SpaceIL lands their rover on the moon – a soft landing, so as to not crash and destroy all equipment, they'll need to explore at least 500 meters of the Moon with said craft. Once this exploration is accomplished, they need to send high definition video and pictures back to the surface of the Earth.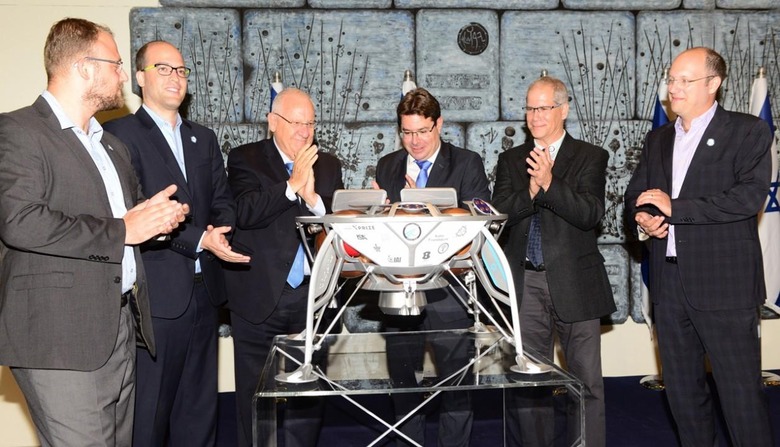 ABOVE: "Unveiling a prototype model (half-scale) of SpaceIL's newly designed spacecraft at a ceremony on 10/07/15 at Israeli President Reuven Rivlin's Residence in Jerusalem."ALSO ABOVE: From left to right:
• Kfir Damari, co-founder, SpaceIL
• Yonatan Weintraub , co-founder, SpaceIL
• Israeli President Reuven Rivlin
• Ofir Akunis, Science, Technology, and Space Minister, Israel
• Eran Privman, CEO, SpaceIL
• Yariv Bash, co-founder SpaceIL
According to the Google Lunar XPRIZE group, Team SpaceIL is the first team to confirm a launch contract to the Moon.
Below you'll see a presentation video from SpaceIL showing the "Hopper" craft – the first edition of the craft the team designed to land on and explore the Moon.
Next you'll see SpaceIL make its presentation at the April 2013 Google Lunar XPRIZE summit in Chile.
The newest design for the SpaceIL lander has been revealed today alongside the announcement of their securing a launch with Spaceflight Industries. This "new and improved design" has been created by SpaceIL engineers with new consultation from Alex Padwa. Padwa is an Israel-Based industrial designer known for designing all manner of products from human exoskeletons to wash machines.

You'l notice that the craft looks a bit more stable now – not quite so tall, a bit wider and flatter. The images you see so far are renderings – the first physical components of this new craft are "already starting to arrive at the SpaceIL integration lab."