PrimeSense confirmed as Project Natal hardware source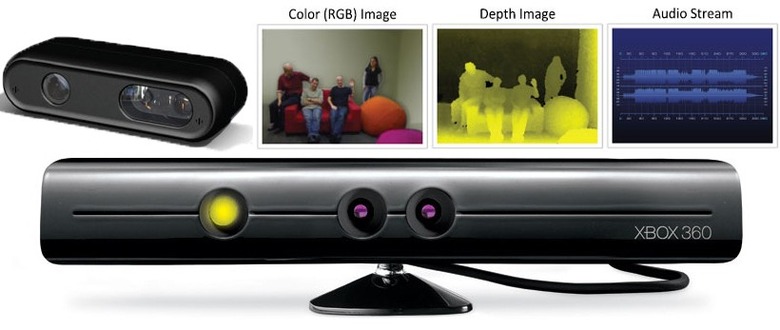 Thought Microsoft had come up with Project Natal for Xbox 360 all by themselves?  Not a chance; the company has pulled back the curtain and it turns out the 3D optical-tracking wizard is actually PrimeSense, whose PrimeSensor system the Xbox 360 engineering team adapted for Microsoft's gaming needs.
"The Reference Design generates realtime depth, color and audio data of the living room scene. It works in all room lighting conditions (whether in complete darkness or in a fully lit room). It does not require the user to wear or hold anything, does not require calibration and does not require computational resources from the host's processor" PrimeSense
Inside Project Natal – and the PrimeSensor reference design – is PrimeSense's PS1080 SoC, with an integrated USB 2.0 controller, and takes infrared input from the standard CMOS sensor, together with audio, and processes it on-chip rather than relying on the console's CPU.  The image analysed is VGA 640 x 480 resolution at 60fps, and according to the technical specs will track people between 0.8m and 3.5m away.
Of course there's no telling how much modification the Xbox team made, nor how long – if at all – Microsoft have any exclusive on the PrimeSense system.  There's also still no specific release dates, beyond the existing "holiday 2010" window and the promise that Natal will make its world premiere on June 13th at E3 2010.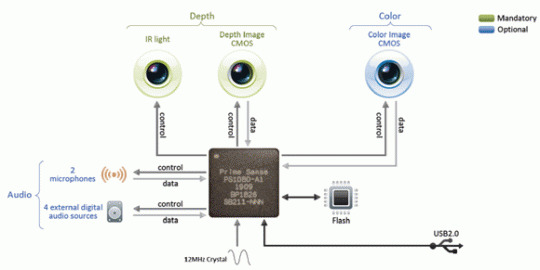 Press Release:
PrimeSense Supplies 3-D-Sensing Technology to "Project Natal" for Xbox 360

Groundbreaking optical-sensing and recognition technologies to aid gesture control platform.

REDMOND, Wash., and TEL AVIV, Israel — March 31, 2010 — Microsoft Corp. and PrimeSense™, the leader in 3-D-sensing and recognition technologies, announced today that PrimeSense will be providing its leading-edge 3-D-sensing technology for use in "Project Natal" for Xbox 360.

"We've seen tremendous excitement and anticipation for the arrival of 'Project Natal' this holiday," said Ilan Spillinger, vice president of Xbox 360 hardware. "PrimeSense has delivered an important component to the technology, helping us deliver revolutionary controller-free entertainment experiences in the living room."

"PrimeSense's technology enables a paradigm shift in the way people interact with consumer electronic devices. The engagement with Xbox 360 establishes PrimeSense's position as a leading supplier of 3-D-sensing technology," said Inon Beracha, chief executive officer, PrimeSense. "We are especially honored to have a partner like Microsoft that shares our vision for bringing innovative and engaging natural experiences to consumers."

"Xbox 360 Hardware Engineering teams developed the 'Project Natal' sensor based on the PrimeSensor™ reference design to support the special requirements of 'Project Natal,'" said Aviad Maizels, president and founder, PrimeSense.

Microsoft recently announced at the Consumer Electronics Show in Las Vegas that "Project Natal" will be available during holiday 2010.

About PrimeSense

PrimeSense is the leader in sensing and recognition technologies enabling consumer devices to "see" environments and allow users to control and interact naturally with those devices in a simple and intuitive way. PrimeSense offers affordable solutions for consumer markets including visual/home computing, interactive entertainment and consumer electronics. PrimeSense products include the PS1080 System on Chip and PrimeSensor reference design, plus cross-platform enabling software to make application development easy and intuitive.

Headquartered in Tel Aviv, Israel, with offices in North America, Japan and Taiwan, PrimeSense is a privately held company. For more information, please visit: www.primesense.com.

About Xbox 360

Xbox 360 is a premier video game and entertainment system. It is home to the best and broadest library of games, a streaming library of thousands of movies and TV shows in 1080p HD, and millions of songs connected to the television. The digital center of the living room, Xbox 360 blends unbeatable content with the largest online social network connected to the television in the 23 million members on Xbox LIVE to create a limitless entertainment experience that can be shared at home or across the globe. With the addition of currently code-named "Project Natal" for Xbox 360, Microsoft will forever transform social gaming and entertainment with a whole new way to play — no controller required. More information about "Project Natal" and Xbox 360 can be found online at http://www.xbox.com/projectnatal and http://www.xbox.com.

About Microsoft

Founded in 1975, Microsoft (Nasdaq "MSFT") is the worldwide leader in software, services and solutions that help people and businesses realize their full potential.