Preorders for Microsoft's 84-inch Surface Hub begin July 1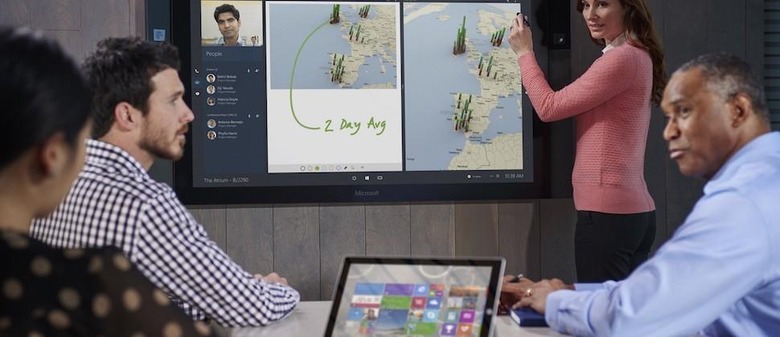 Microsoft's Surface Hub, that huge wall-sized computer that multiple people can write on at the same time with touchscreen pens, is finally going on sale. Preorders will begin on July 1st for businesses, with shipping expected to start in September. The larger model, which features an incredible 84-inch screen with 4K, will cost a whopping $19,999. Mere peasants may be more interested in the 55-inch model, which is priced at a more reasonable $6,999, and has 1080p resolution.
As cool as it would be to have a giant computer display on the wall to play with and write on at any time, the Surface Hub is actually targeted at conference rooms. The device is actually a full-blown PC running Windows 10, able to run any app that would work on a desktop-sized computer.
In its ideal environment, the Surface Hub and its two pressure-sensitive pens will allow multiple people to use it at the same time, whether they're writing or touching the screen and dragging elements around. It also works as a video-teleconferencing tool, with a built-in camera and Skype software. Plus, tablet and phone devices with Miracast support can have presentations mirrored wirelessly, with notes written on the Hub appearing on remote screens in real-time.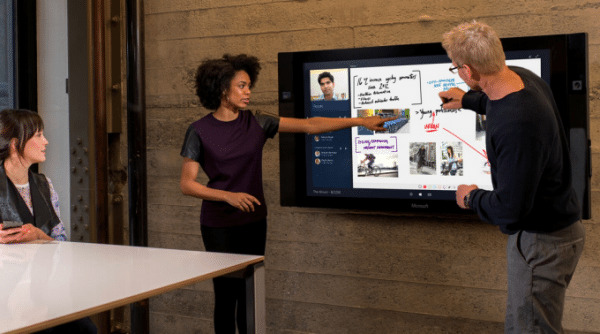 Other slick features include how users can simply walk up to the Hub and start writing or using apps, there's no need to log in. And once that conference room meeting is done, users can just press the "I'm done" button and have all the notes and materials worked on emailed to them. The device will then clear its desktop automatically and reset for the next group to use the room.
Even if you're not a business with nearly $20,000 to spend, you might still have a chance to play with a Surface Hub at some point. Microsoft has hinted they will be showing at Microsoft Stores, where anyone can walk in and give it a try.
SOURCE Microsoft