Pre-release Nokia N8 sells on eBay for just £310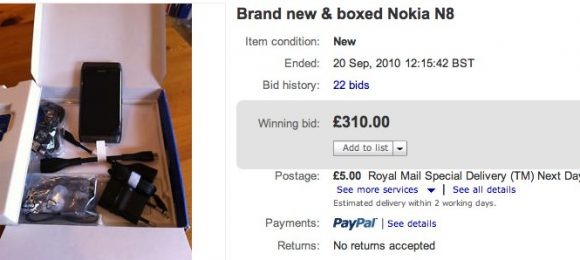 Silly us; here we were waiting for Nokia's official launch of the N8, and all we needed to do was head over to eBay.  A supposedly "brand new & boxed" N8 has just sold on the online auction site for a measly £310 – that's £119 less than the unlocked, SIM-free model is going for on Nokia's own preorder page – meaning someone will get their hands on the smartphone potentially weeks ahead of everybody else.
As for why the price was so low, we can only assume few people found the N8 listing – according to Nokia, the handset has been setting records for the number of preorders placed.  We're not sure where it came from, either; it's not one of the 1,000 Nokia gave out to developers on day one of Nokia World 2010, since the auction started earlier than that.
[via Twitter]