Powerbag Business Class Pack review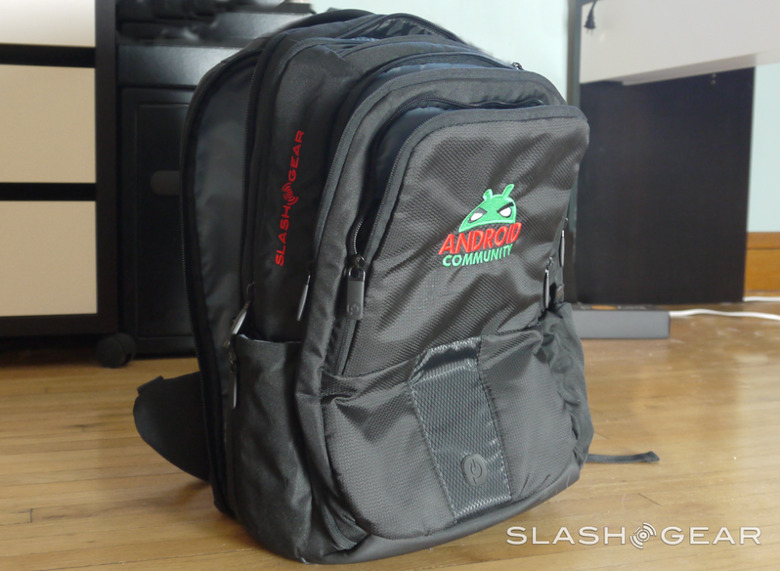 During this last week at CES 2012, an absolute massacre of running, typing, snatching quick snacks, tripping over wires, smashing into walls, and most importantly, transferring electronics in and out of my rucksack of choice, I've got to say one thing about the Powerbag Business Class Pack: I've never seen another backpack keep all the pieces separate and organized the way this one does so very successfully. It's almost like the fact that this sack has a rechargeable battery in the bottom of it is a bonus feature, that's how much I've enjoyed using it to tote my devices through Las Vegas. The 6,000 mAh battery certainly does add frosting to the cake, also, when it comes down to it.
Quality
This bag is as nice as the TUMI bag I'd otherwise be toting, and has a discreet enough look that it could very well pass for any of the highest class packs on the market. At $179.99 it certainly better look nice, and with its built-in ability to hold embroidery, it's all the better.
What you're seeing here is, on the left, Powerbag's own example bag with embroidering, then on the right, our bag with stitching done by our own source. The quality is there, and it's definitely done nothing but favors by the build of the bag.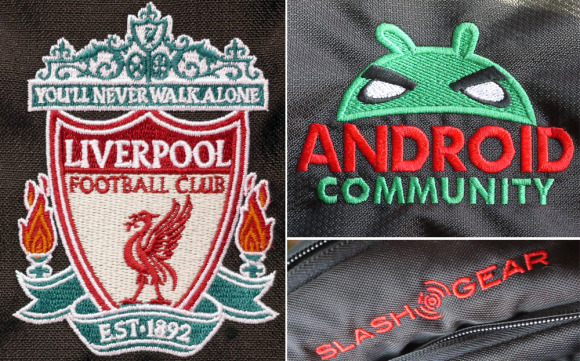 Compartments
There are so many pockets on this bag that, if you've got more devices, books, writing utensils, and snacks than I did this week, I'll simply suggest you carry less. This week I fit in 5 smartphones, three granola bars, three gatorades, a Lumix GF1 camera, several lenses, a monopod, camera lamp, MacBook cord (the long one), charging cords for three more USB devices, business cards box, MacBook Pro 15-inch, and MacBook Air 11-inch.
All of this fits in this pack with room to spare. There's even a little tiny pocket right at the top so you can put pocket change or, in my case, a pillbox sort of container where I store all my SD cards for the camera.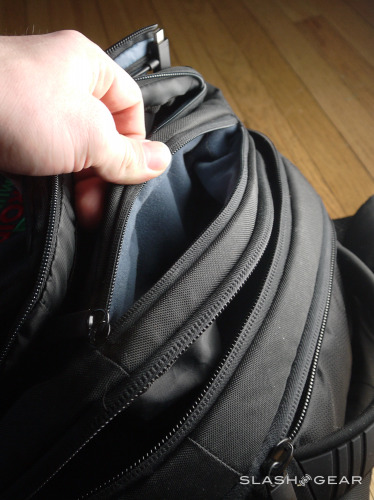 Battery
The battery hasn't failed me yet. There's nothing too fantastically magic about it, that making it all the more brilliant: one 6000 mAh battery you snap in to the plastic (covered up when not switching) compartment which then has a few built-in cords and a USB port for charging whatever else you want.
You'll be able to charge your iPhone/iPad and microUSB device at the same time, or instead of your microUSB device you can use the other end of the built-in cord to charge a mini-USB device. Made primarily for smartphones, certainly not for laptops, but nice to have!
Wrap-Up
The back flap where you've got the main bit folding down and another flat compartment in the back of that allows you to get through the airport in no time flat – I know, I guarantee it because I've done it, and the whole pack is made for not only travel, but day-to-day activities as well.
The battery makes this bag not the lightest pack in the world, but having it is worth the added tiny bit of bulk. This bag is available at mypowerbag.com for the cool price of, again, $179.99, and if you order today, if I'm not mistaken, you get ground shipping free! Neato!
NOTICE also that this bag was given to SlashGear to review, and a bunch more people at CES 2012 were given the same or similar bags to take a peek at as well. The deal was that we'd get the bag in exchange for heading down to the powerbag stand to get the battery – and it was well worth it.
Friendly folks all around and the bag is, legitimately, pretty darn nice.