Porsche Mission E in production body spied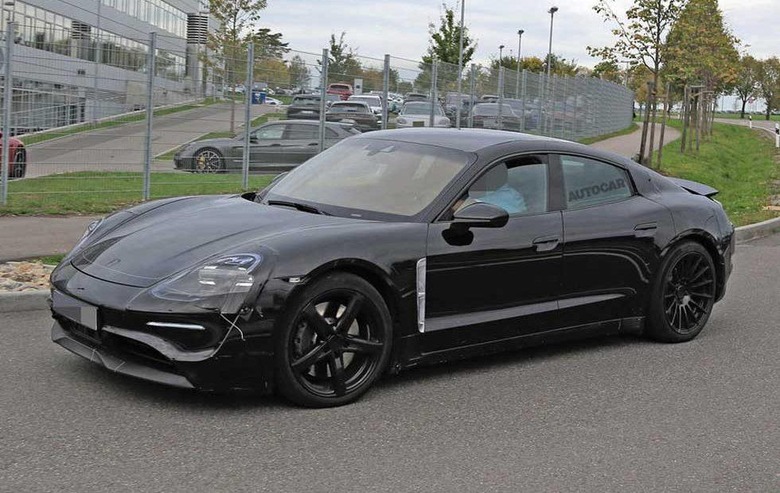 The black car you see in the images in the gallery here is said to be the Porsche Mission E in production bodywork. It looks a lot like the concept car that spawned it, albeit with more Panamera in its style than the concept. The car in the photos was spied near the Porsche R&D center in Weissach outside of Stuttgart.
Those tail pipes in the images are said to be fake to help disguise the fact that the car is an EV. The car looks very cool, the headlights in particular are attractive. The images in the gallery of the car driving in snow are older and show the Mission E when it was rolling on a Panamera-based chassis for testing in the Arctic circle.
Porsche is making the car specifically to fight the Tesla Model S. Mission E rides on a EV platform being developed by the Volkswagen Group known as the J1 structure. The structure offers a lower floor than the C-BEV platform being developed for SUVs.
Rumors peg the Mission E to use a battery pack good for over 330 miles of driving per charge. That battery feeds a pair of electric motors that deliver 590 hp and can push the car to 62mph in 3.5 seconds. Word is that the production car will use the 800V charger than the Mission E Concept uses.
That high-end charging system is rumored to be a partnership with Hitachi. The batteries are said to be rechargeable to 80% capacity in only 15 minutes. Mission E is also getting Level 4 autonomous driving tech, which doesn't require driver attention.
SOURCE: Autocar.co.uk