Porsche made a stunning electric Cayman, but there's a catch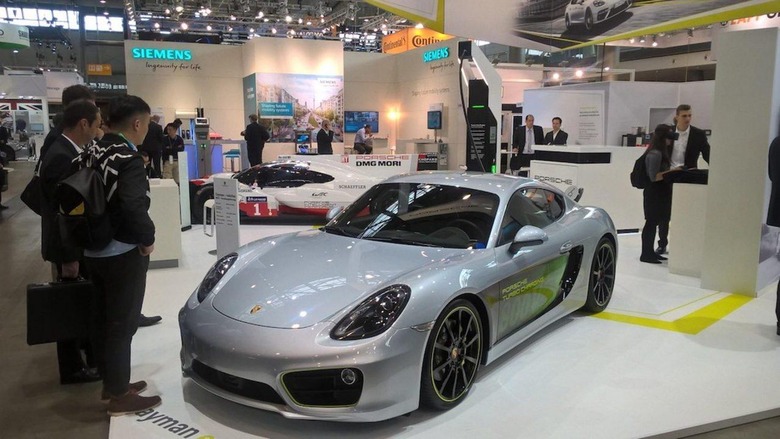 Porsche's all-electric Mission E may be in the pipeline, but the German sportscar maker couldn't resist dropping an EV drivetrain into another vehicle from its range. The company has taken the wraps off the Cayman e-volution, a proof-of-concept that demonstrates electrification needn't mean more-pious-than-you tepid motoring. Unfortunately, there's bad news from Porsche along with the good.
From the outside, the Porsche Cayman e-volution looks much like its gas-powered sibling. That means a lithe little two-door coupe, with classic Porsche proportions. However, where its gas engine would normally be found, there's something very different.
The exact powertrain isn't being talked about, beyond a 0-62 mph time of 3.3 seconds. That's because Porsche isn't so concerned with horsepower, torque, or even battery capacity with the Cayman e-volution. Instead, the concept is all about how fast you can charge your EV up.
It supports a whopping 800 volt charging voltage, something it'll be requiring a fair amount given the mere 124 mile range on a full charge. Porsche is also using the special Cayman to reveal Porsche Turbo Charging, a new collaboration with ADS-TEC and Porsche Engineering.
That's an accumulator-based fast charging system, capable of hitting a hefty 320 kW per vehicle charging capacity. Porsche says it'll be ideal for areas where the power distribution system is subject to limitations. It'll supplement more traditional high-power fast charging, as Porsche, Audi, BMW, Daimler, and Ford are planning to begin rolling out in Europe from 2020.
And the bad news? That's Porsche's confirmation that no, the Cayman e-volution won't be going into production. Instead, it's designed to prove the automaker's point when it argues "just how sporty Porsche believes e-mobility can be."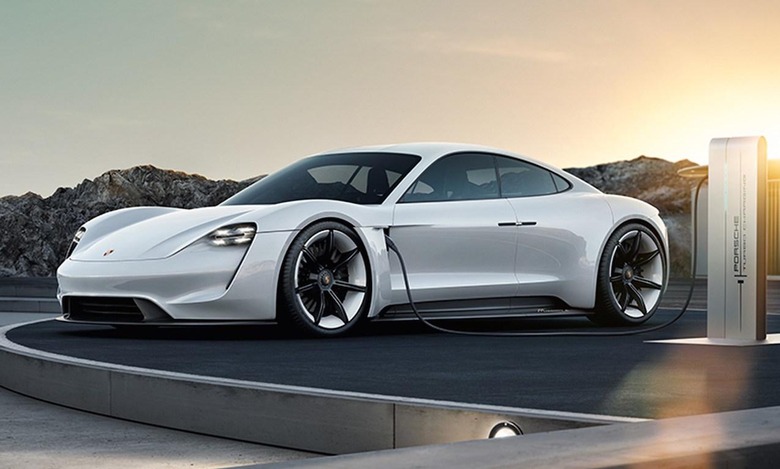 For an all-electric Porsche you can actually buy, you'll have to wait a couple of years. That's when the Mission E arrives, in 2019, with the promise of a range greater than 310 miles. It'll also fast-charge, too, with the ability to go from zero to 80-percent in less than fifteen minutes.
Public testing of the Mission E prototypes is set to begin soon, though Porsche says that the four-door's design has been finalized and will be "very close" to the original, striking concept. Initially, there'll be just one power variant, though it seems unlikely that Porsche will leave things at that. Pricing will be around the point of an entry-level Panamera, which means somewhere in the region of $85k.