Porsche 911 Turbo S Cabriolet global debut set for LA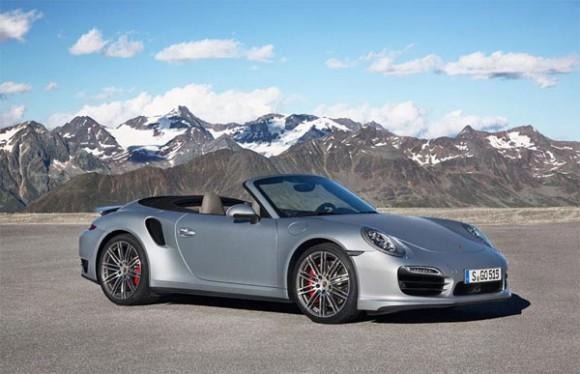 Porsche has announced that it will be doubling the number of models in its high-end 911 Turbo range. Previously the range including the new 911 Turbo and the new 911 Turbo S. Porsche is adding two drop top versions to the new Turbo range doubling the number of Turbo vehicles available.
Porsche is adding the 911 Turbo Cabriolet and the 911 Turbo S Cabriolet, with both making their official world debut November 20 at the Los Angeles International Auto Show. Porsche promises the two drop top versions of the 911 Turbo will offer the same "sporty dynamism, performance, and efficiency of the coupe models."
The 3.8-liter six-cylinder engine in the 911 Turbo uses twin turbochargers and produces 520 hp. The 911 Turbo S Cabriolet uses the same 3.8-liter twin turbo six-cylinder engine, but produces 560 hp. The Turbo Cabriolet can reach 60 mph in 3.3 seconds with the Turbo S Cabriolet reaching 60 mph in 3.1 seconds.
Despite the impressive performance both vehicles offer, the cars are able to deliver 17 mpg in the city and 24 mpg on highway. Like the Turbo Coupe versions of the 911, the two Turbo models will feature rear-axle steering and active aerodynamics. Both cars also feature a seven-speed PK dual-clutch transmission as standard and Porsche's new PTM all-wheel drive.
To help keep weight down on the Cabriolet models, Porsche uses a retractable roof featuring a lightweight magnesium frame. Porsche says that magnesium frame and its lightweight yet strong design allowed the Cabriolet models to preserve the coupe-like arch to the roof, which aids aerodynamics. The roof needs about 13 seconds to retract and can be retracted speeds of up to 30 mph. Both cars will land in US in early 2014 with the 911 Turbo Cabriolet starting at $160,700. The 911 Turbo S Cabriolet will start at $193,900.
SOURCE: Porsche