Porsche 911 GT3 RS spied in winter testing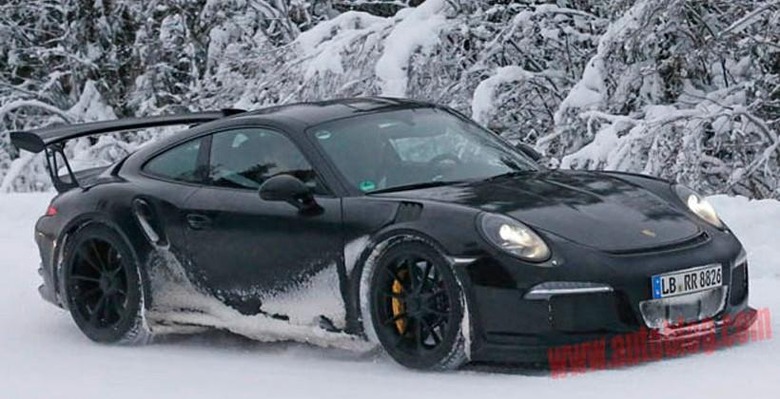 Porsche has several versions of its venerable 911. There are versions of the sports car for those who plan to drive every day on the street and never hit the racetrack and there are versions that come from the factory hopped up with all the bits you need for a day at the track, such as the 911 GT3. An even higher performing version of the GT3 is available called the GT3 RS and the latest version of that car was recently spied during winter testing.
It's pretty awesome to see images of a single unreleased Porsche model during winter testing, but to see what appears to be four of them running in a pack is something else. To spy four sinister looking black versions of the car testing in the midst of a white winter wonderland is especially awesome.
The new GT3 RS is expected to have a 4.0L flat-six, a bit larger than the 3.8L flat-six that is found in the current GT3. Power output for the new GT3 RS is unknown, but the last version of the GT3 RS 4.0 put down 520 hp so expect something in that range.
The bodywork of the car clearly shows a car optimized for aerodynamics. The car has a massive rear wing to put more down force on the rear wheels and help the car stick to a racetrack. It also has vented front fenders to reduce front-end lift. The rear bumpers also have air intakes for the engine. We are on the lookout for more details on its car.
SOURCE: Autoblog