Porsche 911 Carrera and Boxster Black Editions pack enhanced features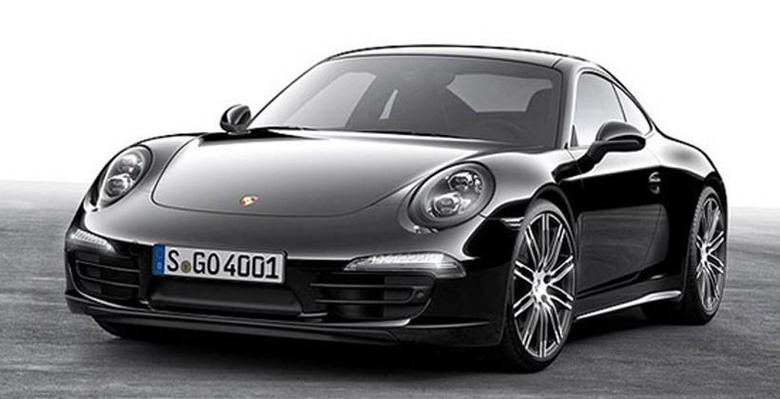 Porsche has created special editions of its popular 911 Carrera sports car and the Boxster roadster. The special editions are called the Black Edition and as you can guess, the key styling feature for the models is black paint and black interior. The standard paint for both models is a normal black color on the outside with Jet Black metallic available as an option. The best thing about these cars isn't the black paint color; it's the features that Porsche crams inside.
The Black Editions of both cars get upgraded wheels, headlights, and sound systems along with Sport Design steering wheels, doorsill guards, and Black Edition logos. Both cars also feature heated seats with embossed Porsche Crest headrests and auto dimming rear-view mirrors. Under the hood the 911 Carrera Black Edition gets the standard 3.4L flat-six engine producing 350hp.
That same engine is available in coupe and convertible Black Edition models. The car gets 20-inch 911 Turbo wheels, LED headlights with PDSL+ and Park Assist. A standard Bose surround sound audio system is also fitted. The Boxster Black Edition gets a 2.7L flat-six producing 265hp. Both the soft top and the safety bar are black. Porsche includes a wind deflector, 20-inch Carrera Classic wheels, and Bi-Xenon headlights with PDLS.
Other features include two-zone AC and heated seats. Boxster Black Edition gets the upgraded sound plus audio system and park assist front and rear. Five versions of the 911 Carrera and Boxster are offered in the US with cars hitting dealerships in July. The Boxster Black Edition will sell for $59,100, 911 Carrera Black Edition is $88,800, 911 Carrera 4 Black Edition is $94,800, 911 Carrera Cabriolet Black Edition is $98,500, and the 911 Carrera 4 Cabriolet Black Edition is $104,600.
SOURCE: Porsche