Porsche 911 Carrera 4 And 4S Official For 2013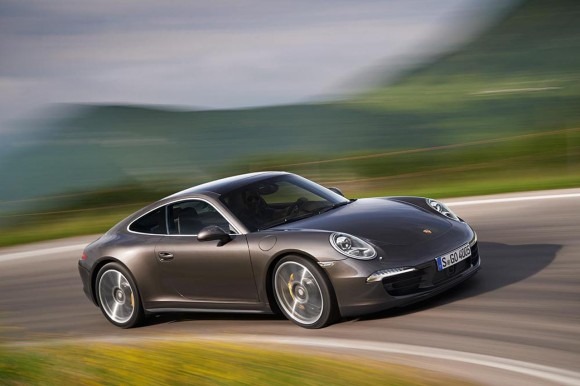 Porsche has taken the wraps off of its latest 911 iteration, the 911 Carrera 4 and 4S, new all-wheel drive performance versions of the iconic sportscar headed to showrooms in early 2013. The new 991-series cars will each be available in coupe or convertible versions, extending the range beyond the current rear-wheel drive models, with up to 400HP and a new 7-speed PDK dual-clutch gearbox for those unhappy with the standard 7-speed manual.
Compared to the previous Carrera 4 models, the 2013 cars drop fuel consumption and weight. Thirst is down by up to 16-percent, and heft by up to 65kg, though the new 911s keep the fatter-width rear wheel housings that help make them so distinctive on the road: each 22mm wider than those on the rear-wheel drive versions, with 10mm wider tyres.
Under the hood of the most powerful S models there's a 3.8 litre rear-mounted boxer engine, which can push the 4 S coupe to 62mph in 4.1 seconds and the convertible in 4.3 seconds. Top speed is 186mph in the coupe and 184mph in the convertible. The regular Carrera 4 gets a 350HP engine good for a 4.5s 0-62 dash in the coupe or 4.7s in the convertible, with up to a 177mph top speed. You'll be wanting one of the (slightly) slower cars if fuel economy is your goal, however, with the 350HP coupe pushing out 203 g/km of CO2; at the other end of the scale, the fastest version gobbles down gas at 26mpg in the auto option.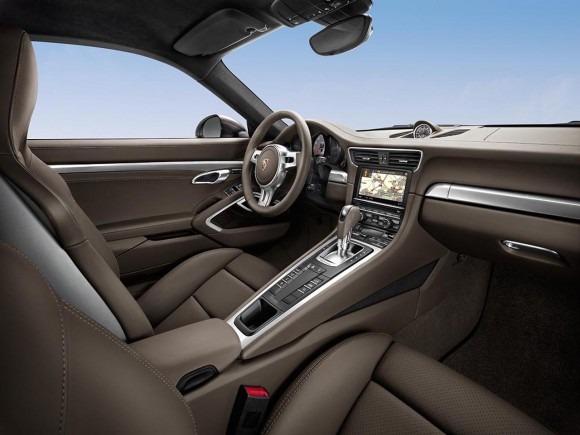 While the outward looks haven't changed much, as is Porsche's usual approach, there's plenty of new tech for owners to crow about. Most important is the new active all-wheel drive system itself, dubbed Porsche Traction Management (PTM), for sportier driving dynamics along with better on-road stability, and which is paired with optional adaptive cruise control that tracks forward traffic to dynamically adjust speed. If you throw the auto into the mix, the cruise control also supports "Porsche Active Safe" front collision avoidance.
Inside, there's a new sliding glass sunroof option for the coupe, and if you spec a manual gearbox and the Sport Chrono pack then you get a Sport Plus mode that automatically double-declutches during downshifting. Plenty of leather, aluminum, and a big-screen nav and entertainment system can also be expected.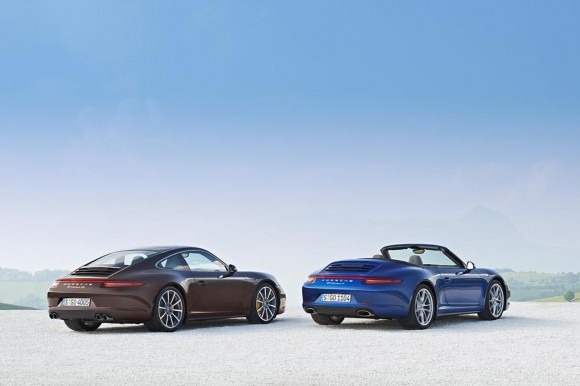 The new Porsche 911 Carrera 4 will go on sale in early 2013 across North America and Europe. Pricing will be from $91,030/€97,557 for the coupe and from $102,930/€110,290 for the convertible, with the Carrera 4 S coupe coming in at $105,630 and the Carrera 4 S convertible at $117,530.