Porsche 911 50th anniversary celebrated with limited edition model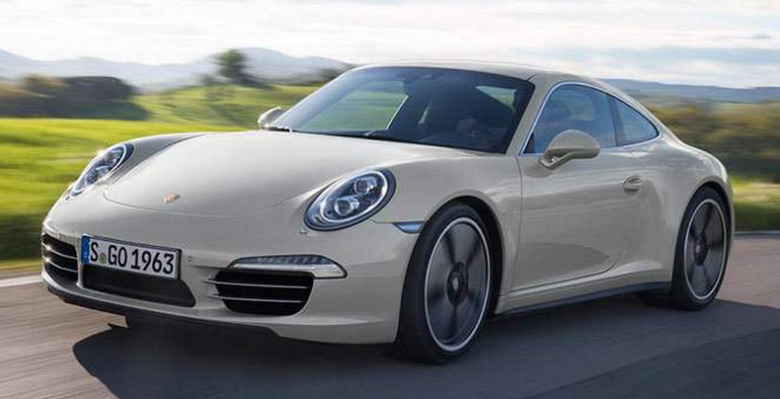 Porsche is celebrating the 50th anniversary of its Porsche 911 with a limited edition model, which it will show off at the Frankfurt International Motor Show. The limited edition model hails back to the Porsche 911 Carrera S, designed as a coupe with a Carrera 4-esque wide body. Only 1,963 of the limited edition models will be created, a number that correlates to the year the Porsche 911 made its public debut.
Officially called the Porsche 911 50th Anniversary Edition, this model – pictured above – has a flat-six rear engine, and as such also has rear-wheel drive. Suspension is said to be "active sport" called the PASM: Porsche Active Suspension Management. Porsche says this complements the extra width for both combined to give the car "exceptional cornering." There's also a sport exhaust designed to give the vehicle a pleasing, so-called sporty note.
Lighting comes by way of PDLS (Porsche Dynamic Light System), which includes both dynamic cornering lights and bi-xenon headlights. The front air inlets have chrome trim, as do the engine grille fins and the panel nestled betwixt the back lights. Wheels are 20-inch "Fuchs" with a combination of polished middles and matte-black finish.
Other design elements include a rear badge that reads 911 50 in a dual-tone with 3D effects. The same badge is represented on the door sill plates, the holder panel, the tachometer, and the headrest. The outside is rounded out by sporty mirror designs and high-gloss window frames. In essence, Porsche says this limited edition model features traces and bits of design from the models that came before it.
As far as internal design goes, the seats have a center fabric panel made with a pattern that is similar to the Pepita tartan design enthusiasts will recognize from the 1960s. Color options for the interior include black with decorative stitching and agate gray, while the external vehicle will be in two colors: graphite grey, which is the darker model, and geyser grey metallic, which is the lighter model. It will be shown off in September, and will be available for purchase on September 23 from dealers for 121,119 Euros.
SOURCE: Porsche