Popular Reddit forums go private as civil war simmers [Update]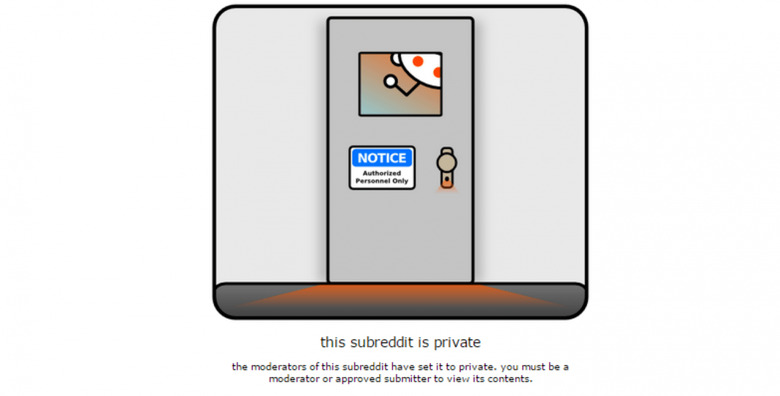 All is not well in Reddit land, with the surprise ousting of a moderator prompting some of the most popular forums to disappear themselves from public view. The furore – which has seen subreddits including "funny", "science", "gaming", and "jokes" all set themselves to private and, therefore, be effectively invisible to anybody but moderators and pre-approved members – began as mods hit back at Reddit's administrators, angry at how the person in charge of "Ask Me Anything" (aka AMAs) had been let go from the site.
Victoria Taylor, known on Reddit as "/u/chooter", was Director of Talent for the site. Effectively the liaison between members of the public wanting to hold an "Ask Me Anything" session, and the site itself, she was instrumental in helping schedule and facilitate some of Reddit's most high-profile celebrity interviews.
That had led to Taylor being heavily involved with many of the most-trafficked subreddits, helping them organize AMAs. It also meant those subreddit mods were left floundering with upcoming sessions, when Taylor was unexpectedly let go.
Exactly why she and Reddit parted ways is unclear at this stage, and site admins are yet to publicly comment on the reasons behind the decision.
However, many moderators acted fast to indicate the degree of their discontent. "IAmA", "AskReddit", "pics", "movies", and more have all switched to private, basically blocking the majority of Reddit users from being able to see them, and holding what would usually be a large portion of the site's content to ransom.
"Victoria was the only line of communication with the admins," "/u/allen", lead moderator of the Science subreddit, said of Taylor's removal. "Dropping this on all of us in the AMA sphere feels like an enormous slap to those of us who put in massive amounts of time to bring quality content to reddit."
The fate of some upcoming AMA sessions is also in question, other moderators warn. "We have several AMAs upcoming in /r/books," subreddit moderator "/u/imakuram" points out, "and have no idea how to contact the authors."
One of the common themes of complaint is that Reddit relies heavily on volunteers to handle a large portion of its operations, and that Taylor's treatment is indicative of a lack of respect for those investing their time and energy to keep the site successful.
"We get that losing Victoria has a significant impact on the way you manage your community," Reddit administrator "/u/kn0thing" said in response, though declined to comment specifically on individual site members. "I'd really like to understand how we can help solve these problems, because I know r/IAMA thrived before her and will thrive after."
For the moment, though, it's unclear when the popular subreddits will reopen, and how the disagreement might re-shape policies toward volunteer roles.
Update: "Ask Me Anything" has been brought back from being made private, but its moderators are in effect declaring independence from Reddit's admin. Future AMAs will be organized by the subreddit's own mods, who say they are dissatisfied with the reassurances they have been given:
"The admins have refused to provide essential information about arranging and scheduling AMAs with their new 'team.' This does not bode well for future communication between us, and we cannot be sure that everything is being arranged honestly and in accordance with our rules. The information we have requested is essential to ensure that money is not changing hands at any point in the procedure which is necessary for /r/IAmA to remain equal and egalitarian. As a result, we will no longer be working with the admins to put together AMAs."
SOURCE Reddit