popSlate 2 is E-Ink for your iPhone done right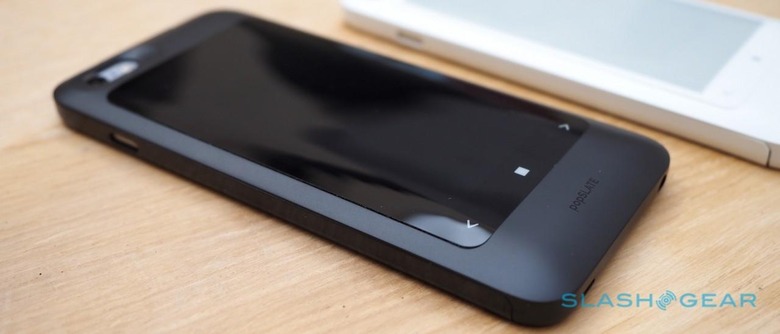 E-ink iPhone case-maker popSlate is back, with a new, sleeker, more functional version of its customizable shell for Apple's smartphone. Just like the first-generation case launched a year ago, the premise for popSlate 2 is straightforward: we're addicted to checking our phones for notifications or simply what time it is, and so why not give the iPhone a second, low-power screen that can deliver that more frugally?
It was a good idea, but popSlate's first model had a couple of issues, its less-than-aesthetically-pleasing bulk and design being the most obvious. Charging separately via microUSB meant carrying a second adapter was a necessity if you were traveling for more than a few days, and the Bluetooth connection to the iPhone could be slow.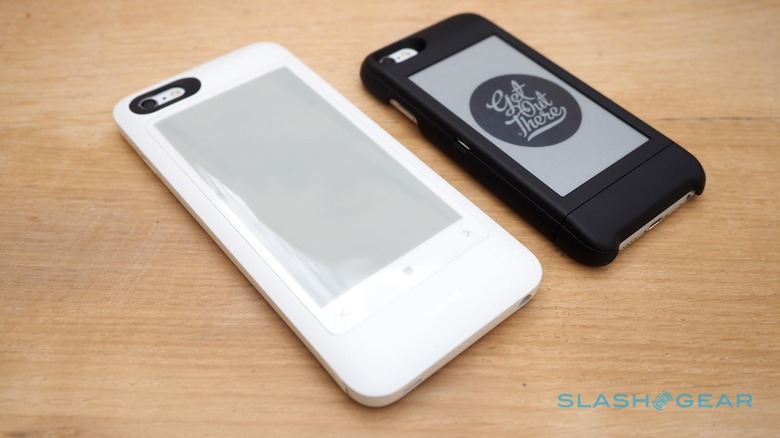 Anything more than basic navigation required digging into the app, since the original popSlate has only a single button. Only iPhone 6/6s owners got to use it, too, since there was no iPhone 6+/6s+ version.
The deal-breaker for me, though, was the fact that, though popSlate had its own battery, it didn't share any of that power with the iPhone. Considering I often have to turn to an external battery-case to keep me going until the end of the day, it came down to a choice between the aesthetic and functional advantages of the e-paper case or simply being able to use my phone at all, and unsurprisingly the latter won out.
You have to give the popSlate team its due: they took every one of those criticisms and addressed them with popSlate 2.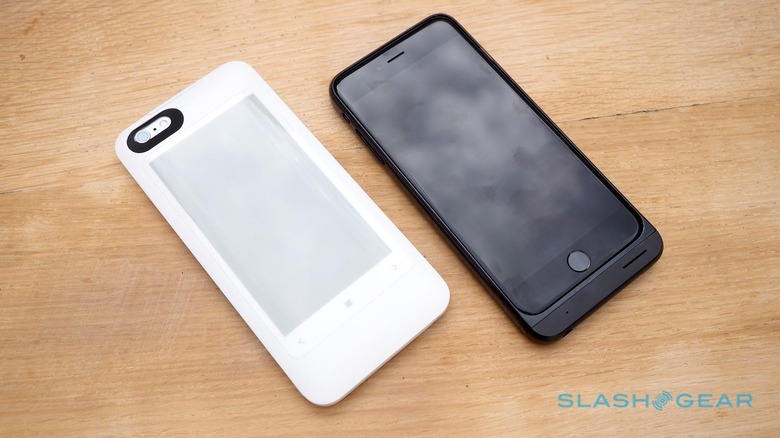 So, the new case now comes in iPhone 6/6s and 6 Plus/6s Plus versions, and has a far more pleasing design. The e-paper display is larger, at 4.7-inches, and higher resolution, at 800 x 450, and rather than being inset into the back is not only flush but curved around the edges.
That's allowed popSlate to make the whole thing thinner, adding just 4mm to the thickness of your iPhone rather than 6.5mm of the first-gen design. I spent some time with a non-functioning prototype for the iPhone 6s Plus, and it feels much like a Mophie does.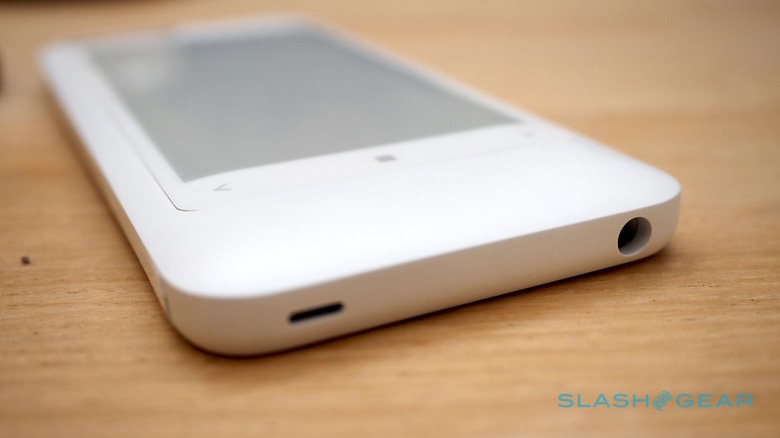 Meanwhile, popSlate 2 now connects via Lightning, with a pass-through Lightning connector that simultaneously charges both phone and case with a single cable. Despite the lower profile, there's a bigger battery inside and it will share its power – Mophie-style – with the iPhone. A full charge can add around nine hours talktime or five hours of browsing, popSlate tells me.
The bigger display sits above three capacitive buttons, two for navigation and a third to switch between up to five different apps that can be running simultaneously. Those apps have been improved, too: you still get the ability to put a monochrome photo of your choice on the back, or to screenshot any iOS app and push it to the case – with the Lightning connection meaning transfer times are a fraction of what they were before – but there are several new ones too.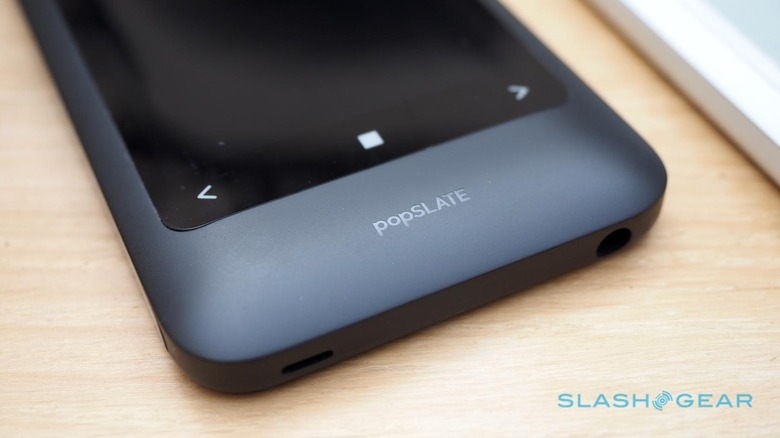 A dashboard has user-selectable widgets from a dozen or so applications, showing things like notifications, upcoming calendar entries, and the weather, while there are oversized clocks and a news reader that pulls in recent headlines from a customizable selection of sources.
A list app turns the e-paper display into a shopping or to-do list, and you can check items off using the capacitive buttons rather than having to unlock your iPhone. Those same buttons can page through a digital wallet, for your Starbucks loyalty card or other cards.
Finally, there's an ereader app, probably the most obvious use for popSlate 2. Unfortunately, it'll only launch with compatibility for open-standard ebooks, like those you'd download from Project Gutenberg; it'd be far more useful if you could load your Kindle or NOOK purchases there.
That could be addressed in time, and there's no denying that popSlate 2 is a huge step forward in hardware and design compared to the original. That felt like a clever gimmick, only halfway out of the prototype stage; the second-generation case finally feels like something you might walk into a store and pick off the shelf.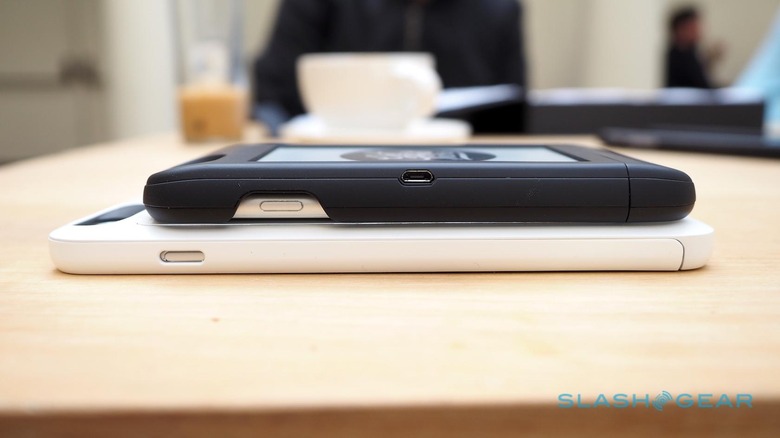 It's not quite at that stage, mind, and like many companies popSlate is turning to crowdfunding to kick off production. The lines are ready, I'm told; all that's needed is $75k to finalize tooling and start popSlate 2 rolling off the line.
Assuming that happens, the case should start shipping in late Summer. The Indiegogo campaign begins today, with early-bird backers getting either the iPhone 6s or iPhone 6s Plus versions from $69; final retail pricing is expected to be $129 and $149 respectively.
MORE popSlate