Popcorn Hour A-110 Media Streamer: Great Product Even Greater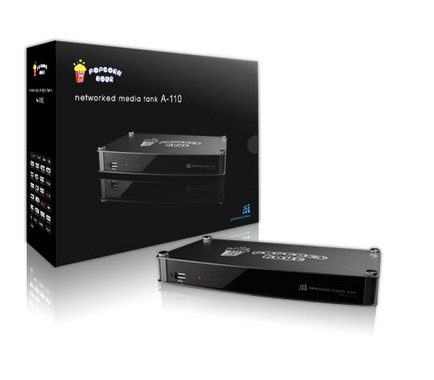 Popcorn Hour's undoubtedly brilliant "networked media tank" has been in to get re-armed, and come back as the A-110.  To the bevy of codecs supported there's now 2.5-inch and 3.5-inch SATA HDD and USB Slave functionality, HDMI has been updated to 1.3a, and there's new support of HD Audio pass-through for DTS HD-HR, DTS HD-MA, Dolby Digital Plus and Dolby TrueHD.
In addition there's been some port juggling, with the USB moved to the rear panel, optical S/PDIF replacing the co-axial S/PDIF and a hardware reset button to allow for easier use of the device.  That's on top of the original A-100's ability to act as a NAS as well as a BitTorrent downloader, and pull media from your home network and HTPC to display on an attached TV.
Video output is up to 1080p resolution, via HDMI or component video.  There are also S-Video and composite video ports.  Supported codecs are too numerous to list, so check out the Popcorn Hour page for full details.