Popcorn Hour NMT A-100 Probably Lasts For More Than An Hour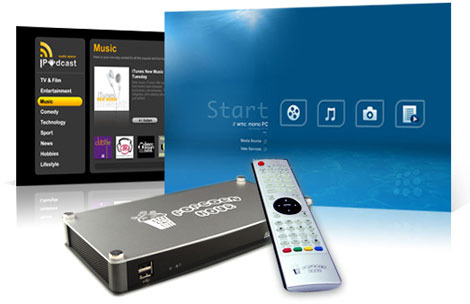 This set top box is amazing! It can stream media from your PC, NAS, USB device, an internal HDD if you install one or even from the Internet.
Should you choose to install the internal HDD, you can also put it to work as an NAS/BitTorrent downloading client without having to leave your PC on. It supports a ton of codecs including MPEG2, MP@HL, H.264 HP@L4.1, VC-1 AP@L3 with transfer speeds of at least 40Mbps, it can serve up 1080p provided you have the network for it, it even supports XviD and the MKV container.
As far as outputs go it has HDMI, Component, S/PDIF coax digital audio, and 10/100 Ethernet connections. On the network it can utilize UPnP, Bonjour, Windows Media, SMB, you can connect to Flickr, YouTube, Google Video Metacafe, and SayaTV, Picasa, iPodcast, Radiobox, ABC News, VideoCast, DL.TV, Cranky Geeks, RSS feeds, and Shoutcast Internet radio. It has support for DLNA devices, Windows Media Connect, myiHome, WizD, SwissCenter, MSP Portal, Llink, GB-PVR, its just plain crazy everything this player can do.
Sadly, they seem to have quickly run out of these little buggers, so I can't tell you what the price is, as its not posted. But, they are taking pre-orders for the next batch, but its on a first come first served basis contingent on when you registered on the site.
[via boingboing]