Polyes Q1 3D printing pen includes integrated blue light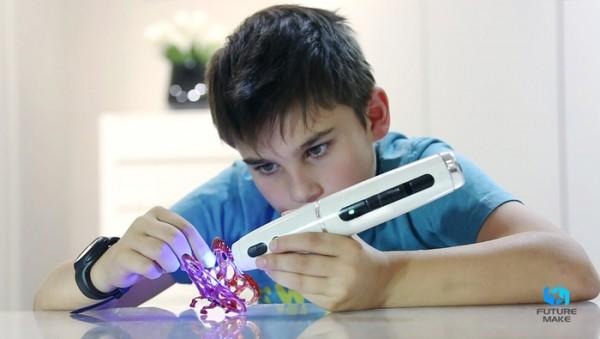 By this point, 3D printing pens aren't anything new. We've seen different versions of them, including the 3Doodler pen that hit Kickstarter back in 2013. Now the crowdfunding website is home to a similar device, one that promises to trump all of its competitors via the inclusion of an integrated blue light. With this blue light, the Polyes Q1 3D printing pen's photo-polymer "ink" is cured quickly for a safer three dimensional drawing experience, improving upon the ABS/PLA materials used by alternatives.
The Polyes Q1 pen, most notably, doesn't involve any parts that get hot, and doesn't melt any plastics. Because of this, the risk of burns and the odors associated with other 3D printing pens are eliminated. In addition, because of the polymers used, operators can utilize different ink colors when needed.
The blue light comes from an integrated LED, which is said to instantly solidify the polymers. To further increase the safety aspects and make the device kid-friendly, Polyes also includes a tilt sensor that will automatically turn off the light if the pen is turned beyond ground level — this prevents a child from staring into the blue light, for example, potentially hurting their eyes.
The folks behind Polyes Q1 were seeking $50,000 USD on Kickstarter, where they have exceeded that amount with $81,976 raised so far and 32 days remaining. A pledge of $69 USD will get backers an early bird unit with a UV light and 3 ink cartridges, while $10 more will get the standard version with a blue light rather than UV.
SOURCE: Kickstarter