Polaroid unveils Android tablet for kids, will show it off at CES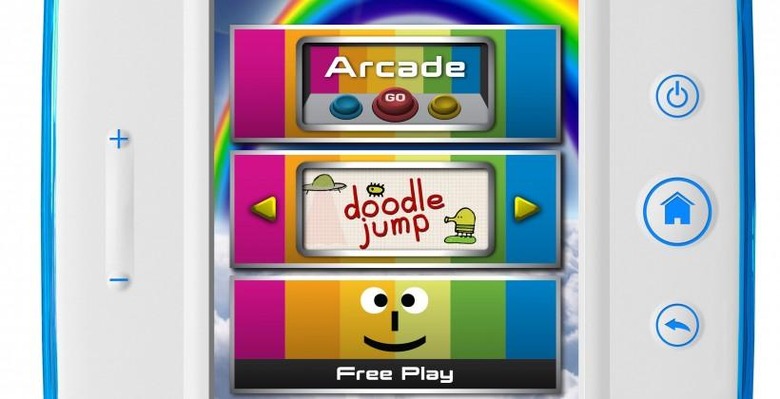 Polaroid, best known for its beloved instant-film cameras, has unveiled an Android tablet for kids. The slate has a 7-inch display, fun white and blue design, and is crafted to be rugged enough to withstand the endless dangers young children will subject it to. The PTAB750 model tablet will be on display at CES 2013 in the coming days.
The tablet has decent hardware with a 1GHz Cortex A8 and 512MB of RAM. There's 802.11 b/g/n connectivity, a 2MP rear camera, and 8GB of internal storage space, with an SD card expansion slot. The 7-inch display has a resolution of 800 x 480, and supports multi-touch. The PTAB750 runs Android 4.0 Ice Cream Sandwich, and comes pre-loaded with more than 35 full-version apps. It's priced at $149.99.
The pre-loaded apps include Music Studio, Draw, Kids Cam, and Kids Vids, the last of which is said to help children stream filtered, kid-friendly videos. In addition, apps are filtered via Free Play, which displays only applications that are appropriate for children. In terms of its durability, the PTAB750 has bumpers along its edges to help keep it safe from drops and bumps. Parental controls are integrated, allowing parents or teachers to control what their child can and cannot do.
Polaroid's President and CEO Scott W. Hardy offered this statement. "Throughout our 75 year history, we've been known for creating innovative and easy-to-use products that are fun for all ages. The kids tablet is no exception. It epitomizes the Polaroid brand personality and brings together a host of features that will delight kids and parents alike." The kid-friendly tablet was named a CES Innovations 2013 Design and Engineering Awards Honoree.
[via Android Community]