Polaroid PlaySmart 3D Printer Released In USA At JOANN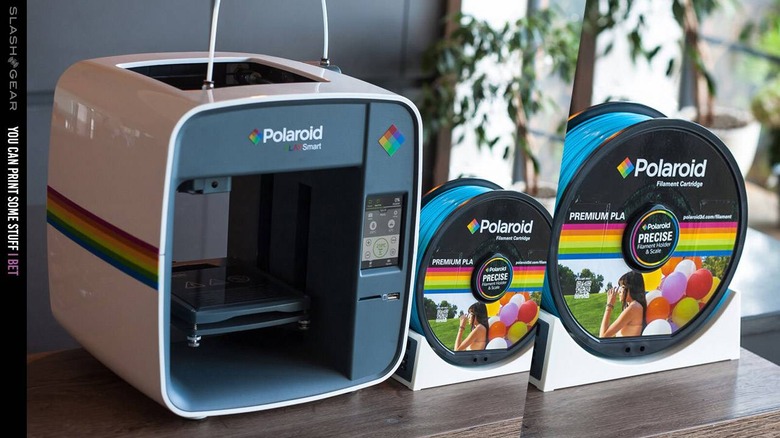 The United States' "leading craft and fabric retailer" JOANN has a new 3D printer on store shelves called the Polaroid PlaySmart. Before you go buying this just-released 3D printer for your friends, associates, or family members this holiday season, take a peek at a few of the details here and get to know the device a bit better. This device might be a bargain – or it might just be a bust – we shall see!
This printer's goal is to make 3D printing seem super simple. They've got the brand recognition with Polaroid. Polaroid is a brand with a legacy of simplicity, calling back to the instant-print Instamatic instant-print cameras made famous by generations of users and big media projects aplenty.*
This printer has a max 3D print size of 120 x 120 x 120mm, and a layer height range of 50 to 300 microns. Up front you'll be able to control this device with a 3.5-inch LCD touchscreen, and wi-fi connectivity onboard means you'll be able to wirelessly send files to print from your PC or Polaroid PlaySmart App. The PC app is called Polaroid SmartPrep – and it's free as well.
This unit works with PLA, PETG and P-Wood Polaroid Universal Filament Cartridges, and it looks like you're probably going to want to stick to said Polaroid-made filament cartridges when you run out. That could be a bummer if you generally use filament from 3rd-party distributors.
This printer can be purchased from JOANN (dot com) now, and can be found at Polaroid (dot com), and it may be in physical stores in the near future – you might want to check with your local store before you drop in and check. Shipping from JOANN online is currently free, and the printer will cost you approximately $600 USD.
*Also note: This isn't the same Polaroid as made the original Instamatic line of cameras. Polaroid is currently a brand licensor and marketer for companies that create photography and printing products. There's also a company called Polaroid Originals that makes cameras, sunglasses, and television units. This does not mean that a device that's just branded Polaroid but not manufactured by Polaroid isn't a high-quality product, it just means that it's not the same sort of setup as a company like Formlabs or LulzBot.