Poken social network profile-exchanging keychain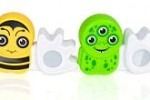 Technologically advanced ways to exchange contact information have come and gone, but the business card seems to always remain.  The latest gadget to take on the challenge is Poken, and unlike prior devices – which generally target the busy executive demographic – this one is aimed squarely at young people.  Each keyring-style character can swap your social networking profile information with another, simply by holding the 'palms' together.
It's based on a near-field RF system, but all you really need to know is that each Poken can store up to 64 different sets of user details.  Once you get back to your computer, whip out the hand (the four characters are really just the cases) and plug it directly into a USB port; Poken automatically synchronizes everything together and offers up the new profiles you've collected.
Using the online interface you can choose which profiles and which networks you want associated with the Poken, and cycle through different ones by pressing the palm button.  That way you don't accidentally send your new work colleagues to your "single and looking" profile, or potential dates to your "I'm too busy to have a private life" work profile. 
Poken is available now, in four different characters, priced at £12.95 ($20.10).
[via Pocket-lint]