Pokemon HOME prices and a stunner detail: No trades with Switch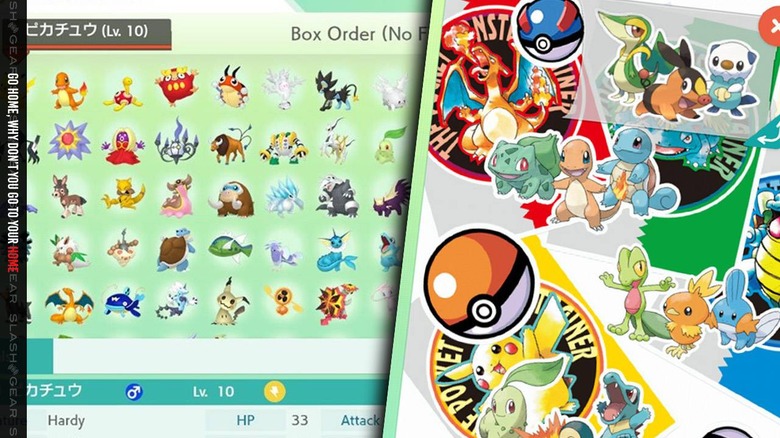 Pokemon HOME details were released today by The Pokemon Company in full, with release date and pricing structure included. There'll be a Basic Plan and a Premium Plan available for all trainers right out the gate. Different features will be enabled for different price tiers, and different abilities will be enabled on different platforms – the Mobile Phone Version of Pokemon Home and the Nintendo Switch Version of Pokemon Home have different features right out the gate.
Perhaps most shocking amongst the newly-revealed features of Pokemon HOME is the lack of trading ability from the Nintendo Switch version of the system. If you have no smartphone or tablet, you're outta luck. You're going to need the mobile version of the Pokemon HOME app to trade Pokemon. Four versions of trading include Wonder Box, GTS (Global Trade System), Room Trade (local) and Friend Trade.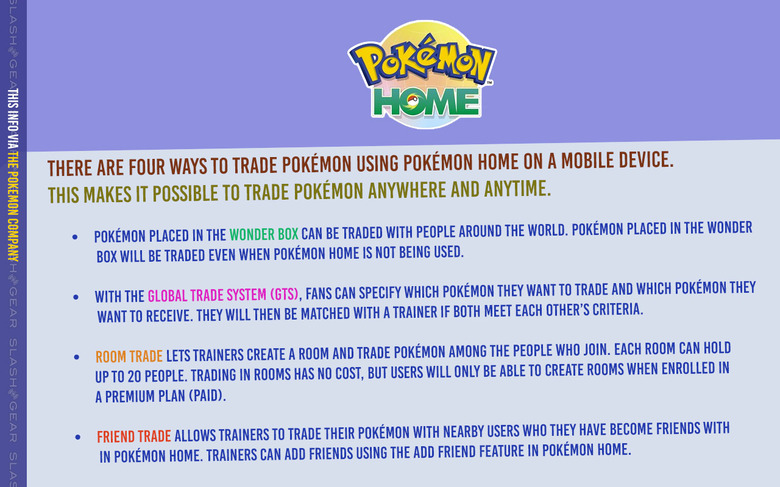 Below you'll see various differences between the Nintendo Switch and Mobile Phone version of the Pokemon HOME system. This system is the same on both platforms – it's just accessed differently on different devices.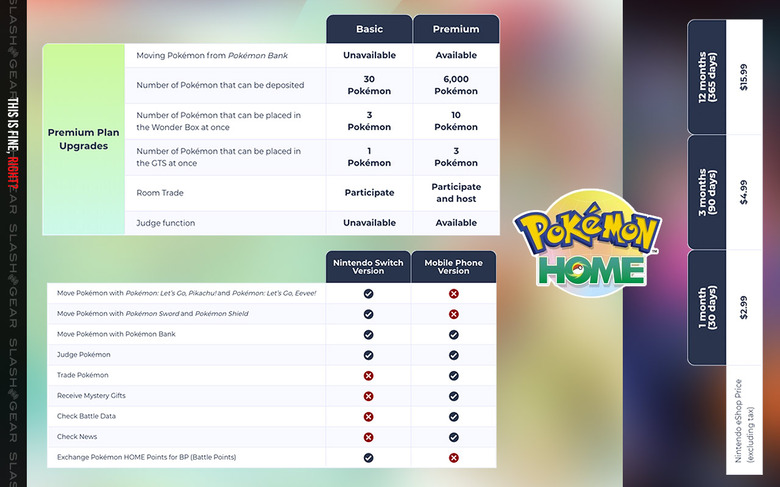 Above you'll also see the differences between the two major tiers for the Pokemon HOME system. There's a Basic Plan and a Premium Plan, and the differences are fairly major. The Basic version can store 30 Pokemon, while Premium can store up to SIX THOUSAND.
Prices for the system are based on the length of time you'd like to subscribe. If you sign up for one month of Premium, you'll pay approximately $3. If you sign up for 3 months at once, you'll pay approximately $5, then a full year will cost around $16 (that's approximately $1.34 per month).
At the start of this system – in February – Pokemon Bank and Poke Transporter will be "available at no cost for a one-month period". For that one single month, users will be allowed to transfer Pokemon from a variety of Pokemon series games (with Bank and Transporter) to move to Pokemon HOME.
As we outlined in the past, it's important to note that Pokemon can be transferred to and from Pokemon HOME with Pokemon Sword and Shield, but only TO with other games. If you're transferring from Pokemon Let's Go Eevee or Pikachu, Pokemon GO, or any game to Pokemon Bank to Home, you'll never get those Pokemon back on those other systems again.
The release of Pokemon HOME is scheduled for February 2020. At that time, the system will launch with apps for iPhone, iPad, Android devices of many types, and Nintendo Switch. Stick around as we learn more and make this info consumable!