Pokemon GO's "Poke Bank" update revealed for transfer plus trading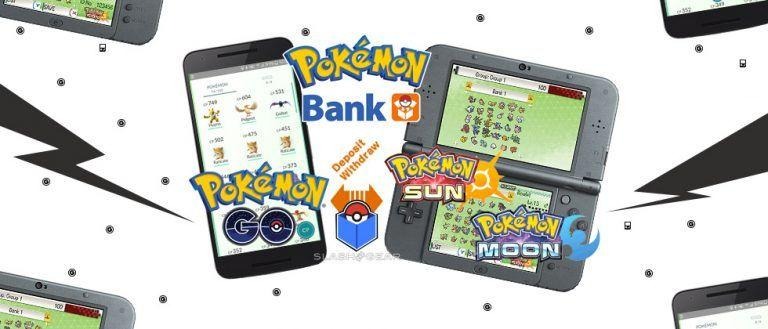 Pokemon GO has been spotted in the code for the newest Pokemon Bank app update for the Nintendo 3DS. This is the Pokemon Sun and Moon connection to Pokemon GO we've been waiting for. In this update for the app – one double the size of the Pokemon Bank currently out in the public – major transfer action will be enabled. Of the many games that will be allowed to transfer Pokemon into the Pokemon Bank for cross-app usage, the mobile game Pokemon GO will be enabled.
Inside Pokemon Bank, several new Game IDs have been revealed by a few intrepid software explorers. Props to Michael and Rei Keima for all their investigatory work. They've been exploring the most recent version of Pokemon Bank, teardown style.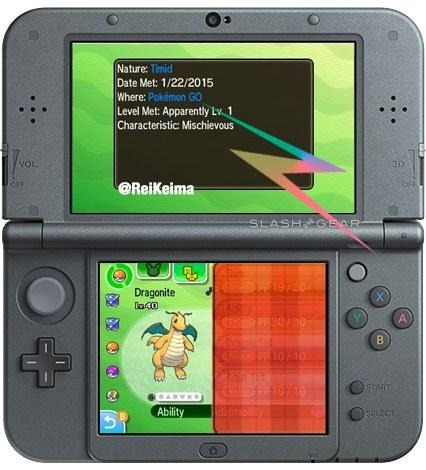 In this app, Game IDs 24 and 25 correspond to Pokemon X and Y, while 26 and 27 are set for Pokemon Omega Ruby and Alpha Sapphire. IDs 28 and 29 correspond to the Pentagon icon, IE Generation VI (also X and Y, possibly) – but these seem unused at the moment. Game IDs 30 and 31 correspond to Pokemon Sun and Pokemon Moon, and 32/33 are set for some (unused) Aloha-related sets.
Pokemon Bank Game ID 34 corresponds with a "Horohoro" icon which is essentially the letter G inside a circle. A Gameboy icon appears to correspond to 7 game IDs, 35, 36, 37, 38, 39, 40, 41. As a total of 7 Pokemon Gameboy games were released, these 7 spots seem to make a whole lot of sense.
Transfers from the first set of games – those set in the Kanto region, Green (Japan), Blue, Red, and Yellow, include the following text. This text is shown in transfers of Pokemon just after "Nature" and before "Characteristic."
"Seems to have traveled across both space and time to reach you from the Kanto region in the good old days."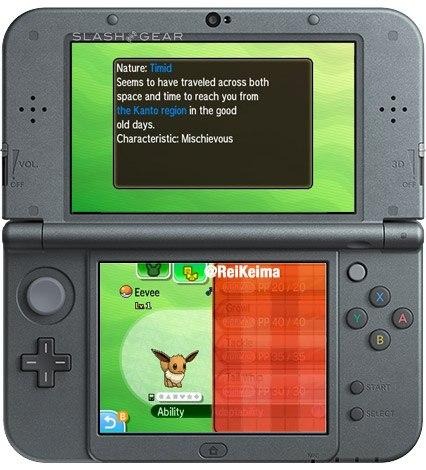 Game ID 34's icon is the letter G inside a circle. Since the iconography is so incredibly tiny, we cannot reliably compare the G to the G in the Pokemon GO logo. But if I was a betting man, I'd bet it's the same G as we see in GO. It's not clear whether Pokemon GO will be amongst those games able to Deposit and Withdraw from the Pokemon Bank, or if Pokemon GO will only be able to transfer in.
Older Games seem only to be able to transfer in to the Pokemon Bank for now – and likely into the foreseeable future. These include Pokemon Red, Blue, Yellow, Black, White, Black 2, and White 2. Each of the games from the newest several generations are able to both Deposit and Withdraw Pokemon from the Pokemon Bank: X, Y, Omega Red, Alpha Sapphire, Sun, and Moon.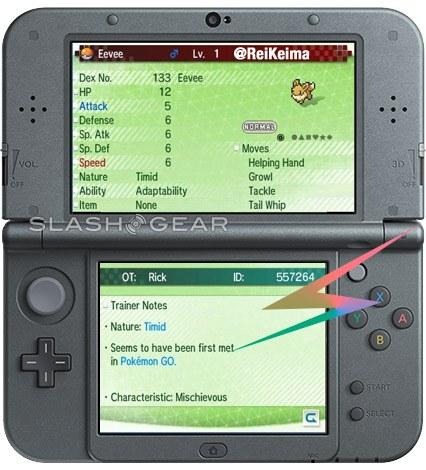 This most recent update does not activate Pokemon GO transfers for the public. Much like Niantic does with their code updates, software appears inactive in the APK before it does in the live game. We likely have little time between now and the release of this Pokemon Bank transfer action in the near future.
It's likely Niantic will engage this functionality before they do person-to-person trading of Pokemon in Pokemon GO. It's more important for The Pokemon Company that Pokemon GO connect to the rest of the 3DS games than it is for GO players to connect with other GO players.
Considering how well recent Pokemon Sun and Moon global events have gone so far, The Pokemon Company is probably ITCHING to get the Pokemon GO craze attached to Pokemon Sun and Moon as soon as possible.