Pokemon Gold and Silver for 3DS will get a physical release (kind of)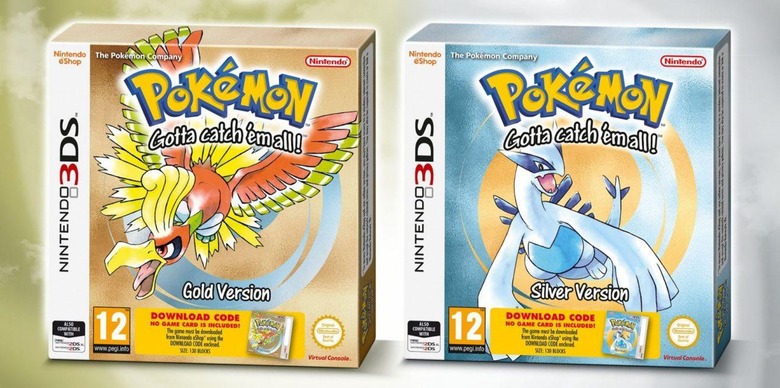 Nintendo has a handful of notable Pokemon releases planned for September. On September 22, it will release an enhanced version of Pokken Tournament for the Nintendo Switch, and on the very same day, Pokemon Gold and Silver will be landing on the 3DS Virtual Console. Today we're learning that these 3DS re-releases will be getting something of a physical release (in a manner of speaking, at least).
Earlier today, Nintendo of Europe revealed that boxes for Pokemon Gold and Silver will be offered at retail. There's no cartridge in those boxes, only a download code for the games, so this isn't the full-blown retail release we're sure many Pokemon fans would love to see. Still, if you'd like to have a box to display on your shelf, then you'll definitely want to pick these up.
The image Nintendo shared shows us what the boxes will look like. They're almost exact replicas of the boxes for the original Game Boy releases, only with 3DS branding instead. It's a nice little throwback to a time when Pokemania was taking the world by storm.
Unfortunately for us, Nintendo was painfully short on details when it comes to these retail releases. We don't know if the boxes will have anything besides the download code inside (a game manual would be awesome, personally speaking) nor do we know how much they'll cost. We're expecting the digital versions of Gold and Silver to cost $10 apiece – following the Virtual Console versions of Pokemon Red, Blue, and Yellow – but it wouldn't be surprising to see Nintendo charge a premium for the boxes.
Also unknown at this point is whether or not these will be available outside of Europe. So far, Nintendo of America's own Twitter account has been silent on the matter, so if you're in the US, you might not want to get your hopes up just yet. I've asked Nintendo about a potential US release for these boxes and I'll update if I hear back, but for now, head down to the comments section and let us know if you'd pick one (or both) of these up!