Pokemon Go tracking tool FastPokeMap on the verge of making a comeback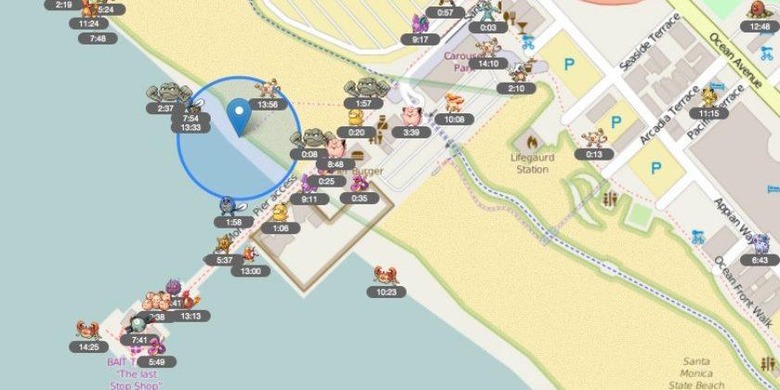 Pokemon Go received a sizable update earlier this week, with new additions like catch bonuses and the ability to use up to six Pokemon when gym training. If this has you excited to get back out and hunt some Pokemon this weekend, possibly after taking a break from the game, you might soon have the ability to take advantage of one of players' favorite third-party tools: the live monster-tracking map FastPokeMap.
FastPokeMap was one of a handful of Pokemon-tracking websites that early Pokemon Go players will remember from the game's first few weeks. These maps used the game's API to display specific creatures' exact real-world locations, and for how long they would remain there, giving players a chance to track down their favorite Pokemon, or find the ones they've yet to discover on their own.
Unfortunately, Pokemon Go developer Niantic took a hard stance against tracking websites, feeling that they went against the spirit of the game, not to mention hindered players' experiences by producing overwhelming demand on servers. An update was then released that killed any access to the API these tracking tools relied on.
Jump to today, and the creators of FastPokeMap have been hard at work at trying to crack open the API of the latest game update. Earlier this week, after only a few days of progress, they said that they expected the site to be up and running by this weekend. They also wrote a letter to Niantic criticizing the developer's choices over the game and their effects on the player community.
"We'll keep reversing your game as long as your game is popular. FastPokeMap will continue to come back no matter how hard you try to kill it. But if you keep trying to kill it don't be surprised if soon there won't be anyone playing your game anymore."
As of this writing, the FastPokeMap website isn't yet working again, but live updates on their Twitter account seem to indicate that they're incredibly close to bringing the tool to life again. If you've been missing this third-party functionality from the first few weeks of Pokemon Go's launch, when excitement over the game was at an all-time high, be sure to keep an eye on FastPokeMap over the next few days to see if it returns. Knowing Niantic, it won't be long before it's shut down again.
SOURCE FastPokeMap, Twitter