Pokemon Go Pushes Nintendo Market Cap To $42 Billion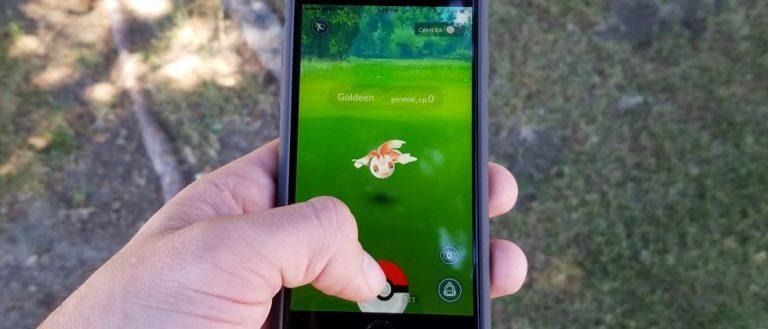 Love it or hate it, one of the most popular mobile games to launch in a very long time is Pokémon Go from Nintendo. The game has players wondering around their city and getting exercise in many cases all while trying to catch Pokemon and level their characters up. Nintendo has ridden the wave of popularity that Pokemon Go has generated quite literally to new heights with shares soaring another 14% in trading on Tuesday.
Only a few days ago, Nintendo shares grew by 25% and so far, it looks like the growth won't stop. With shares of Nintendo gaining another 14% this week, the gaming company has more than doubled its market capitalization to $42.5 billion in seven sessions since the popular mobile game launched. Pokemon Go is available in 35 countries with most of the countries in Europe, gamers in Canada and the US can access the game as well.
"I've never seen the trend of such a big company's shares changing so quickly in such a short period of time," said Takashi Oba, senior strategist at Okasan Securities.
Shares of Nintendo ended at 31,770 yen gaining 100% since the game launched on July 6. It's hard to believe one mobile game that is a free download could add that much value directly to the bottom line of the development company. The wild success virtually guarantees a plethora of clones will land soon. Turnover in shares of Nintendo has hit a record high at 703.6 billion yen. Another impressive milestone for Nintendo is that trading in shares of its stock alone accounted for a quarter of the entire trading on the main board at the Tokyo Stock Exchange. The gains have pushed the market cap of Nintendo past the market cap of Sony.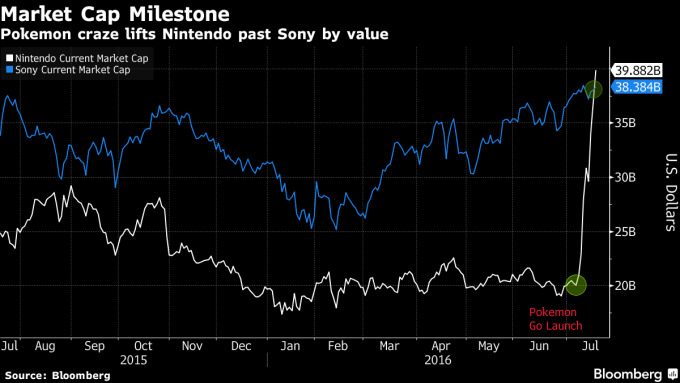 "Virtual reality and augmented reality have been a focus of the market but hardly anyone was expecting Nintendo in this area. Suddenly Nintendo has become an AR-related stock," said an unnamed fund manager at a Japanese asset management firm.
SOURCE: Bloomberg