Pokemon GO Gen 2 : how to be first to the update download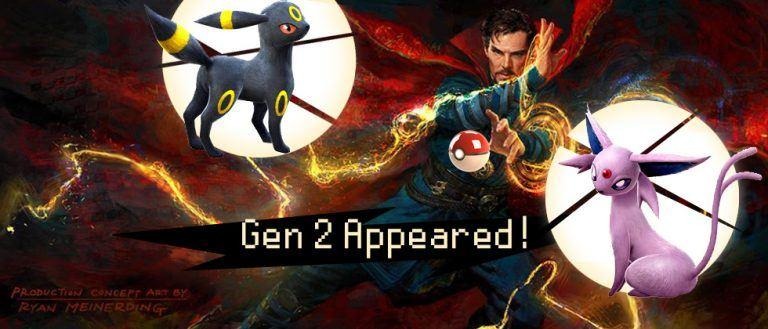 The 100+ new Pokemon in Pokemon GO are coming, and playing the Pokemon GO song "I Play Pokemon GO" on repeat is not the best way to bring Gen 2 quicker. There are several ways in which a Pokemon GO user can make certain they're amongst the first to have access to the second generation of Pokemon – the list from Pokemon Black and Pokemon White. We've worked with our source familiar with the information who wishes to remain anonymous to create a miniature guide that'll be sure to make the update appear for you as fast as possible.
The following methods will not necessarily bring Gen 2 Pokemon to any one user sooner than any other. That said, some of these methods have allowed players to see server-side updates (made by Niantic) quicker than others in the past. There's also always the issue of having the newest version of the app on hand.
1. Attain the latest APK
If the user wishes to have the latest update from Niantic in Pokemon GO, they'll need the latest version of the game files. Apple's iPhone does not currently have a reliable source for 3rd-party downloads of apps. Don't do it, it's not worth the hassle that comes with downloading malicious apps for iOS – they can be vicious.
Android devices have APK Mirror to rely on for the latest versions of all manner of apps. SlashGear takes no responsibility for anything that might happen to a device that downloads or loads an app through APK Mirror, but it does exist. At the APK Mirror site for Niantic are both downloads for Pokemon GO and Ingress.
2. Update the game in-app
There is a way to "ping" Niantic in Pokemon GO to force an update to the environment around a player. Summoning the Journal each Pokemon GO trainer has in their pocket makes this update ping happen. This method of updating was first discovered back when the game had server issues at launch.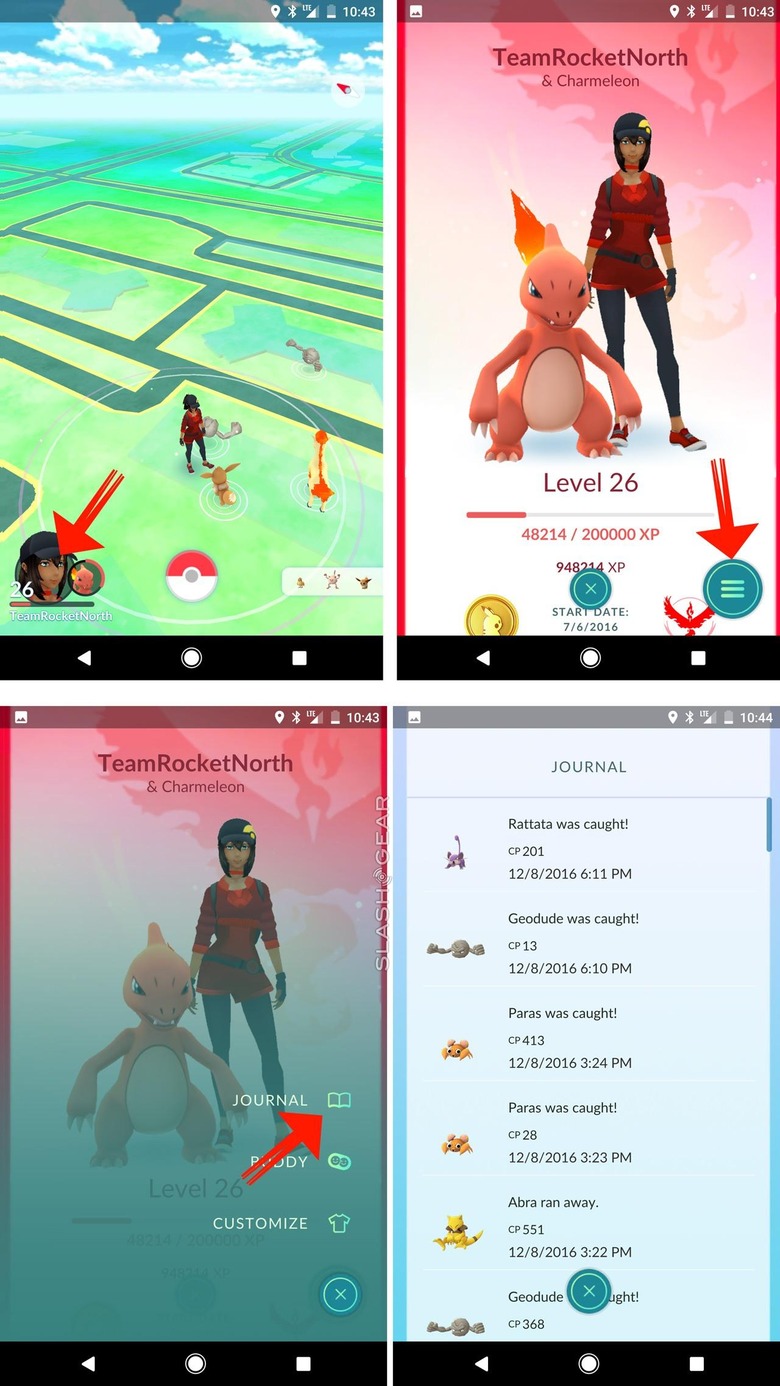 While Niantic has since cleaned up their act and grabbed hold of much more robust resources, using the Journal still works for updates. The screenshot directions above should guide the masses on this simple technique. Several other similar methods exist for similar sorts of functions in the game – we're still sussing them all out!
3. Delete Cache
For iPhone users, the most direct method of deleting Pokemon GO's data cache is deleting the app itself and re-installing. The app isn't all that massive a download and progress in the game is saved by Niantic, not locally by the player. As such, re-downloading the game at the start of every day may seem odd, but won't take more than a couple minutes.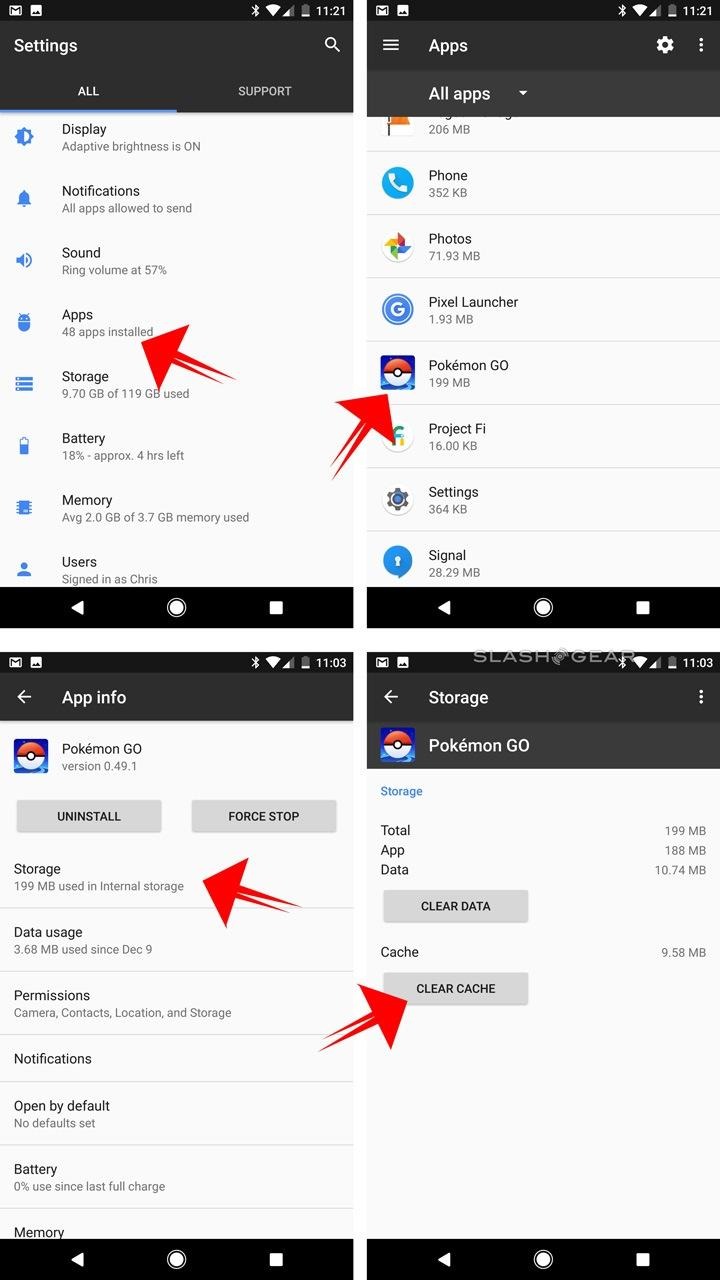 Deleting an app and re-installing is one of the most effective ways of flushing out any bugs that might be present. It's also a way to check whether the newest version of the app isn't on your phone simply because your app doesn't automatically check to see if it's the most updated version of itself. That wont often happen, but there's always a chance.
For Android, the process is a bit different. While Android users COULD just delete their app (uninstall the app, that is to say), and re-installing from Google Play, there's another method. Head into Settings, find Apps (it'll look different to you than the images we have here unless you have a Pixel). Tap Apps, tap Pokemon GO, tap Storage, and Clear Cache. You can also Clear Data from this screen.
4. Watch the throne
SlashGear will be updating its Pokemon GO Twitter Portal the moment Gen 2 begins to unfurl. We'll also have an update as soon as the December 12th news is revealed – that'll likely include some clues as to how and when Gen 2 will begin to be released.
Until then, watch the airwaves and keep on tapping the Journal. Gen 2 will come to us all quicker than you can catch 100 Eevee.