Pokemon Go Fest suffers widespread technical issues, Niantic promises refunds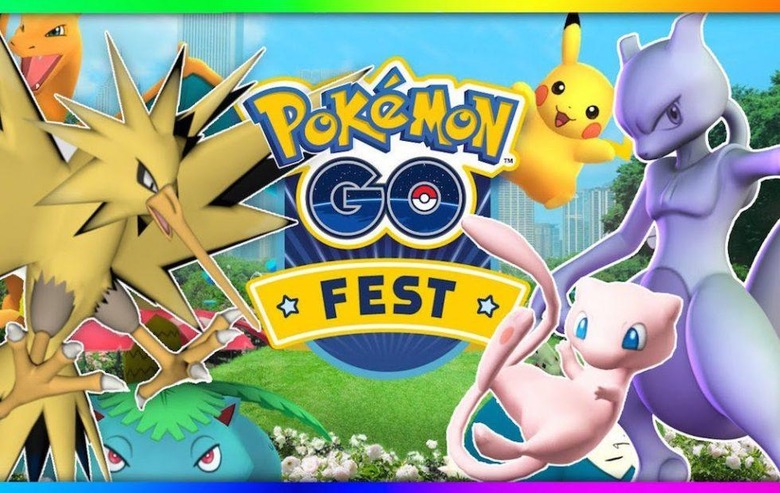 Pokemon Go became an immediate worldwide sensation when it was first released last summer, and while its popularity has died down significantly since then, there were still many loyal players looking forward to this weekend's Pokemon Go Fest — a real-world event hosted in Chicago's Grant Park. The festival was designed to be a celebration for Pokemon fans, allowing players the first chance to hunt for new Legendary Pokemon. Unfortunately, the event has gotten off to a disastrous start, with technical issues resulting in widespread frustration.
Similar to how Pokemon Go's slow rollout last year was plagued by server issues, so too was Pokemon Go Fest. Almost as soon as the event began on Saturday, things like poor cellular reception, lack of WiFi, and overwhelmed servers meant that it was basically impossible for attendees to log in and play.
Trainers, we're aware of server and connectivity issues impacting #PokemonGOFest and are working as quickly as possible to address them.

— Pokémon GO (@PokemonGoApp) July 22, 2017
Things got worse as not only players inside the park became frustrated, but those outside spent hours waiting in line, while the server problems meant worldwide players were unable to participate in specific challenges tied to the event. Add to this the fact that there were attendees who came from far outside Chicago to participate, spending money on travel and hotels.
When John Hanke, CEO of Pokemon Go developer Niantic, took to the stage to give a speech, he was met with boos and angry chants of "We can't play!" Niantic has announced that it will be refunding the $20 ticket prices, as well as offering $100 worth of in-game Pokecoins to attendees. "It's a small gesture, but we're sorry. This is not the day that we had all envisioned, but we appreciate your patience," said marketing head Mike Quigley to the crowd.
The first day's activities have ended, but the rest of the weekend's event will proceed. Connectivity issues have improved for some in Chicago, and for the next 24 hours Niantic has extended the radius for capturing rare Pokemon to two miles outside the park. In addition, the game's first Legendary Pokemon, Lugia, will begin rolling out for players worldwide over the next 48 hours.
VIA Chicago Tribune