Pokemon GO Research: Snapshots Give Rewards Better Than Shiny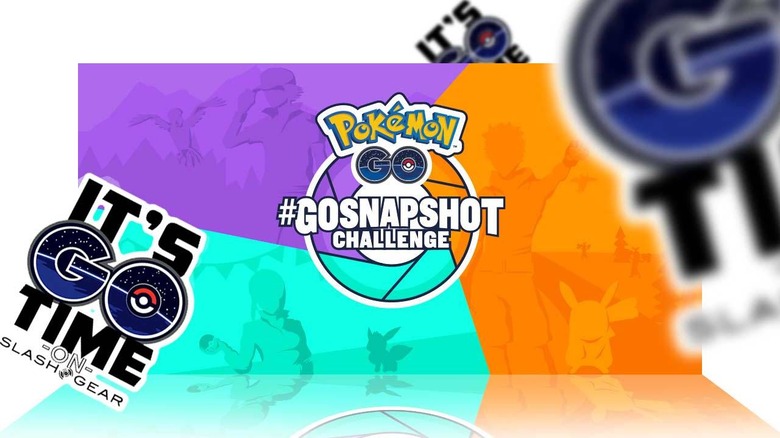 A number of Pokemon GO challenges are set to be issued by Niantic in the very near future, with some pretty interesting rewards. Each is part of a #GOsnapshot Challenge for Pokemon GO, challenging users to take part with their Pokemon GO's built-in camera function. Winners of each of the three "Adventure" events will get the opportunity to win in-game rewards or to be "whisked away with with travel and tickets to a 2019 Pokémon GO Fest of their choice!" That's the one we're going for (not that we'd be eligible anyway, lol.)
Three challenges, three date ranges. During each challenge, the user will want to take photos that correspond with the challenge. They'll want to post those photos to Instagram or Twitter (or both) with the hashtags #GOsnapshot and #GoCreateChallenge alongside. Literally type those terms, the stuff inside the quotes: "#GOsnapshot #GoCreateChallenge" along with your photos.
You can post your three top photos (the ones you think have the best chance at winning) for each challenge. There are three challenges, starting with the Buddy Challenge. There's also a Habitat Challenge and a Go Create Challenge.
1. Buddy Challenge
The Buddy Challenge takes place from April 15, 2019, to April 24, 2019. This challenge might require you to get some assistance taking a photo, because you need to be in it. Niantic asks here for "photos that highlight the connection between them and their Buddy Pokémon."
Niantic provided the following photo as example of what they're looking for. Like the other examples, note that this is sorta the baseline. It's gotta be far, far more awesome than this if you're gonna win.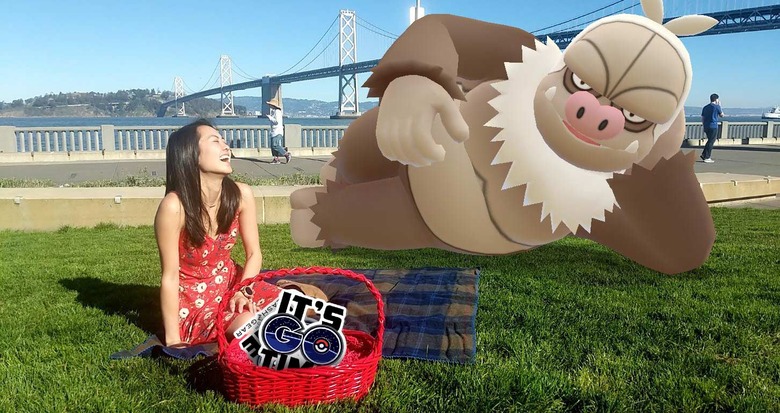 2. Habitat Challenge
The Habitat Challenge takes place from April 29, 2019, to May 8, 2019. This challenge asks that you "take the best photos of Pokémon in their natural habitat." This demands that you, the trainer, learn all about your Pokemon's type and Pokédex information. Niantic provided the following photo as an example – it's a Butterfree in a field of tulips.
Another example might be if you've got a Sandshrew – you'd want to take a photo in a dry, arid location. You might even want to find a way to get underground, for good measure! BUT, and this is very important, don't do anything that'd get you in trouble or put you in any sort of danger – that's ALWAYS true in Pokemon GO, all the time.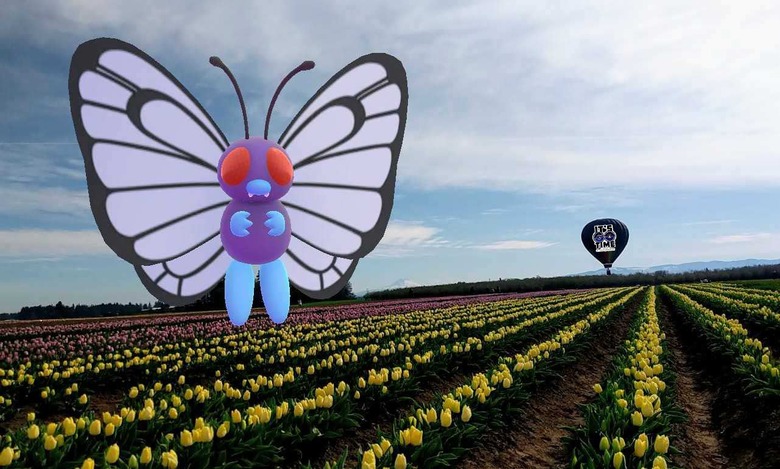 3. Go Create Challenge
The Buddy Challenge takes place from May 13, 2019, to May 22, 2019. Niantic asked that you "show us how innovative you can get with GO Snapshot." They gave the following example photo to show what they mean – Oddish style. They added, "With GO Snapshot, there are almost no limits when it comes to where, when, and how you capture AR photos of your Pokémon."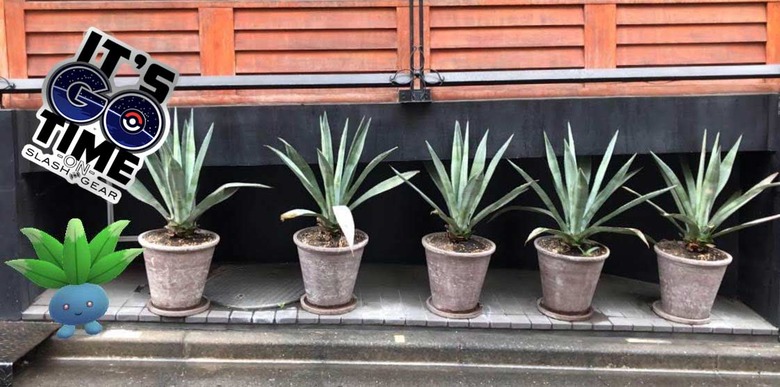 Rewards Galore
The folks behind the next Pokemon GO event are masters of rewards. They know exactly what Pokemon GO users are after. They want to make their mark in the world – to a massive degree, in the game, in as big a fashion as possible. As such, Niantic's offering a couple of really interesting rewards for winners of each of the three challenges.
The first of two rewards is: "Each runner-up will win a special PokéStop featuring their winning photo that will remain no less than three months!" Getting to take a photo that sits in the game you play every day, shown to everyone else in the game that happens upon your area – that's a hyper-local targeted bit of excellence if ever have I heard of such a thing.
The other reward is pretty generous, if I do say so myself. The grand-prize winner of each of the three adventure challenges will get "travel and tickets" to any 2019 Pokemon GO Fest they'd like. According to the official rules and regulations for the contest series, this includes: "two (2) tickets to a 2019 GO Fest Event of the winner's choice, (iii) round-trip air travel for two (2) individuals to the 2019 GO Fest Event from a major airport, and (iv) one room lodging for three (3) nights during the 2019 GO Fest Event."