Supposing it's been a while since you've played Pokemon, you might not know that the current number of unique pocket monsters is well over 600. That still doesn't add up to the massive number of creatures users will be able to hold at once when the system known as Pokemon Bank launches on December 27th. This new "downloadable software service" for both Pokemon X and Pokemon Y will offer up a whopping 3,000 Pokemon spaces for storage, each of them housed in private boxes online for swapping and management.
What's neat about this service is that it erases the need for you to load up two separate Nintendo 3DS units to transfer Pokemon between two units of the game. As it was all the way back at the dawn of Pokemon Red and Pokemon Blue, you're going to want to jump in on the two separate games to catch them all. Supposing you Gotta Catch Em All as the name of the game suggests, Pokemon Bank will allow you to do this over the internet.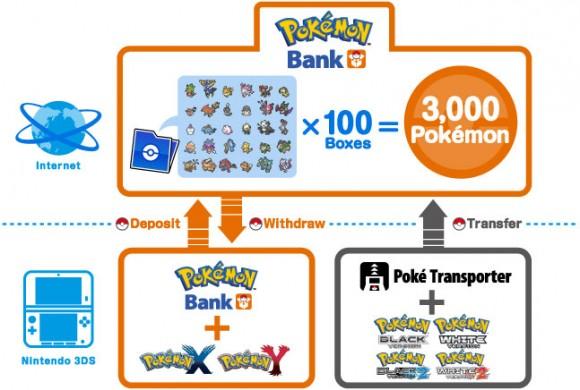 This doesn't necessarily mean that you'll be able to trade with your friends through Pokemon Bank, unfortunately, at least not from the start. There is, however, a linked app by the name of Poke Transporter coming along that'll allow you to transfer Pokemon from your older games to this new set of X and Y.
Poke Transporter works with Pokémon Black, Pokémon White, Pokémon Black 2, and Pokémon White 2 to Pokémon X and Pokémon Y. Anything before that is out in the dust.
There's also a cost involved in the use of Pokemon Bank, that being a cool $4.99 USD per year. The first downloaders of Pokemon Bank and Poke Transporter between December 27th, 2013, and January 31st, 2014 will recieve a free pass for 30 days.