Point of View Mobii ION 230 netbooks with NVIDIA GPU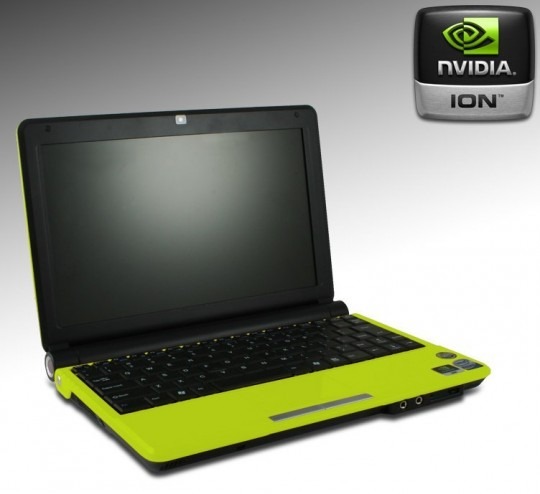 No, not an NVIDIA Ion space-invader dive bombing a lurid netbook, but one of Point of View's new Mobii ION 230 machines.  Based on Intel's Atom 230 processor, a curious choice considering the single-core 230 is more usually a nettop CPU, the Mobii attempts to redeem itself by using NVIDIA's Ion GPU along with the typical 1GB of RAM and a 160GB hard-drive.
That means, so Point of View say, that you'll get 1080p playback, DirectX 10 and Shader Model 4.0 support from your netbook, complete with an HDMI output for putting those graphics on a big screen.  The Mobii's own display is a 10.2-inch 1024 x 600 panel, while there's also WiFi b/g, Bluetooth 2.0 and gigabit ethernet.
Other ports include two USB 2.0 and audio in/out, and there's a 6-cell 4,400mAh battery; however the absence of power-saving features in the CPU, like you'd find in an N-series Atom processor, means you only see up to 4hrs runtime from it.  Standard OS is Linux, and there's thankfully a black model as well as the lime green and red you can see in the gallery.  They're expected to arrive priced at around €349 ($495).