Pogoplug updated: Twitter & Facebook integration, more USB ports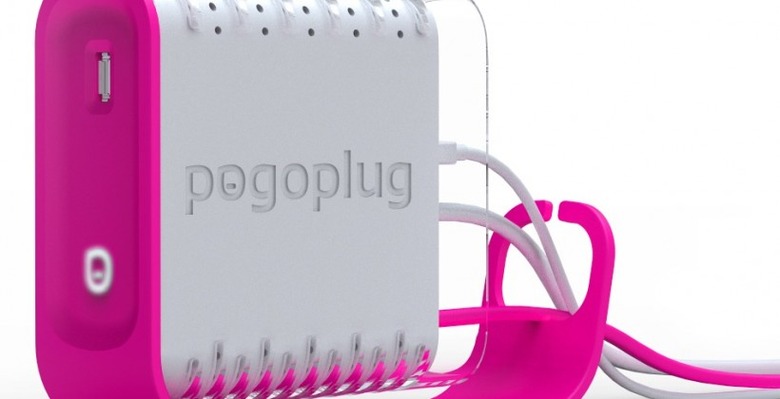 Pogoplug have announced their second-generation device, and it aims to build on the usability of the original multimedia sharing brick.  As well as a new hardware design, with four USB 2.0 ports versus the first-gen model's single port, there's also new software with better integration with social media and online galleries such as Facebook, Twitter and MySpace.  The core concept, however, remains the same: a sixty-second setup, basically amounting to plugging in at least one hard-drive, an ethernet connection and power, and registering the Pogoplug serial number to a free account online.
Once that's done, any drive plugged in to any of the four USB 2.0 ports (or, indeed, even more drives using a USB hub) can be accessed via the web interface, either locally or across the internet (either from a computer or certain smartphone mobile clients).  There's automatic synchronization between the Pogoplug account and iTunes, iPhoto or Windows Media Player libraries, together with more straightforward browsing and even a global search function that turns up content no matter which volume it's stored on.
Pogoplug have also made sharing with third-parties – such as friends and family – easier, thanks to a new addressbook that automatically remembers anybody you previously shared a folder with.  Shared slideshows can be created using drag & drop within the browser, and video  - just like music on the first-gen model – can be streamed directly through the browser.
The company expect the second-gen Pogoplug to ship in time for the 2009 holidays, and are taking pre-orders now with an MRSP of $129; there are no ongoing service fees.
Press Release:
Second Generation Pogoplug™ Unveiled Today

Next-generation Hardware Design and Software Provide Enhanced Storage, Multimedia and Social Media Capabilities

San Francisco, Calif. – November 19, 2009 – Cloud Engines, Inc. unveiled the second generation of the award winning Pogoplug multimedia sharing device today giving consumers more flexibility to store personal content safely in the home and access, manage, and share it from anywhere on the Internet. The new Pogoplug hardware sports a new design boasting multiple USB ports supporting up to 4 external drives for expanded data capacity. The new Pogoplug also gives users improved sharing capabilities, an easy drag-and-drop interface to create engaging multi-media slide shows, seamless media playback, and enhanced sharing with friends on Facebook, Twitter and MySpace.

Pogoplug acts like a gateway from your home or office through the Internet. It allows you to access, share and even stream your personal digital media directly to anybody, anywhere in the world. Your content always remains physically in your home or office, making it secure, convenient and available on your terms. Pogoplug is perfect for those individuals with increasingly mobile lifestyles and small businesses in need of simple, inexpensive mobile data access solutions.

"The reaction to the Pogoplug has been incredible. By listening to user feedback and following our own product roadmap, we are bringing a great second-generation product that gives our customers access to a host of new features that both improve the function of the Pogoplug, and add to the fun of using it as well." said Daniel Putterman, CEO of Cloud Engines, Inc. "We are committed to giving our customers the best way to access their data from anywhere in the world, pushing the envelope with both product quality and design aesthetic. The result is what you see here today."

NEW HARDWARE

The new Pogoplug design retains the simplicity and ease of use of the original while listening to consumer feedback and adding the ability to directly connect up to 4 external hard drives at once. The resulting product boasts an improved design with greatly improved functionality for users with multiple drives and an increasing need for easy synching and sharing of their digital libraries. This upgrade turns the Pogoplug into an even more prominent feature in the modern digital home or small business.

NEW FEATURES

Automatically Synchronize Photos, Videos, Music and Other Selected Content

Users can synchronize their Pogoplug with their PC or Mac to automatically import new content from popular applications such as iTunes, Windows Media Player, and iPhoto. This feature allows Pogoplug owners to "set it and forget it" and always have access to new photos, videos and music from anywhere on the Internet.

Drag-and-Drop Music and Photo Slideshows

Users can easily create and share fun and engaging slideshows using their stored photos, videos and music. Creating a slideshow with Pogoplug is as simple as drag and drop, and sharing these slideshows is just as easy as ever. Once a user's link is shared and viewed, their slideshow will immediately begin with the photos, videos and music they selected, playing seamlessly in the viewer's browser.

Easier Sharing with Pogoplug Address Book

Pogoplug Address Book greatly improves the speed and ease of use of sharing with a user's friends and family. Pogoplug automatically remembers all email addresses entered in a user's previous shares – even if that share no longer exists – and makes them available in an easy to use address book to make sharing truly one click away.

Global Search Across Multiple Drives and Pogoplugs

With support for multiple drives on a single Pogoplug (and multiple Pogoplugs on the same account) Pogoplug has added "global" search support across all of a user's Pogoplugs and drives. Search filters are now a distinct feature, allowing users to view all of their photos, videos and music in a single organized view, or to search for a specific file across all Pogoplugs and drives.

Organize Your Music, Photos and Videos

Pogoplug automatically displays music by Album, Artist and Genre, and shows cover art for quick access to a user's favorite music. Photos are now displayed by photo timeline and videos are only a click away, including the ability to watch a preview in the thumbnail itself.

Play movies directly from my.pogoplug.com, or even to the iPhone

Pogoplug now supports the playback of videos directly from a Pogoplug, with support for the most popular cameras, video cameras and mobile phones. Movies can be shared and viewed directly from the Pogoplug website – or even from an iPhone!

Pricing and Availability

We are currently taking Pre-Orders for Pogoplug at www.pogoplug.com Units will ship before the end of the year – just in time for the Holiday Season. The Pogoplug has a suggested retail price of $129, with no additional service fees.

USEFUL LINKS

• Pogoplug web site: www.pogoplug.com

• Product photos: www.flickr.com/photos/pogoplug

• Twitter feed: www.twitter.com/pogoplug

• Pogoplug online community: www.pogoplugged.com

ABOUT THE POGOPLUG

The Pogoplug is a device that connects up to 4 external hard drives to the Internet. It is designed for consumers who have an external hard drive and have high speed Internet. Consumers can securely access and share all of their content [Files, Photos, and Video] from any Web browser or enabled mobile device with no additional monthly fees. Free your inner drive.

ABOUT CLOUD ENGINES, INC.

Founded in 2007 by experienced entrepreneurs from the digital media and security industries, Cloud Engines is located in San Francisco, California. The company was formed with a mission to change the way personal content is stored and distributed over the Internet. The Cloud Engines philosophy is that by making a product simple, open and affordable, the community will participate in making it better. For more information, please visit our Web site, www.cloudengines.com.