Pogoplug Software Review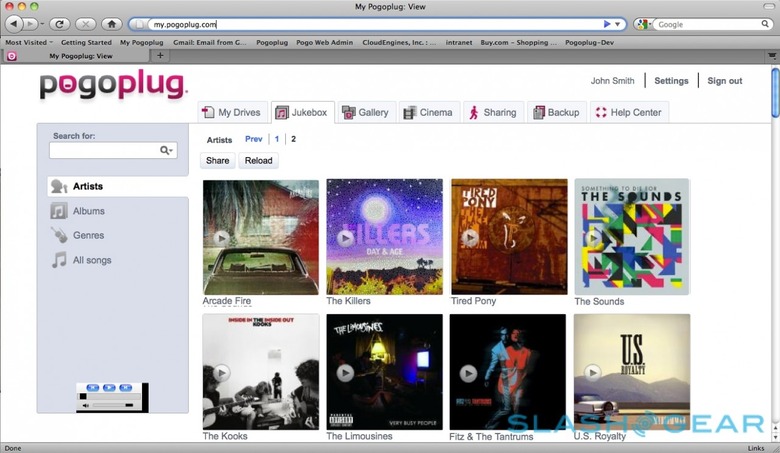 Pogoplug has launched its latest product, and now you don't need a big pink box in order to share your files. Pogoplug Software replicates the personal-cloud experience in app form rather than demanding hardware, and with service starting from free – and multi-platform mobile apps already available – it comes out the gate with advantages over cloud storage systems from Apple, Amazon and others. We've been playing with the app ahead of its official launch today; check out the SlashGear review after the cut, and how to get a discounted premium upgrade.
Background
Pogoplug started off with a basic Marvell Plug Computer design back in 2009, offering a simple way to share a USB hard-drive over the internet. The second-gen model boosted the number of ports to four, and subsequent updates threw in cloud printing support, WiFi and a sober business version dressed all in black.
The company's premise was straightforward: a sixty second setup experience, made ultra-streamlined with automatic network discovery, sensible default sharing options and a convenient web interface. Mobile apps for iOS and Android meant you could access files and multimedia from home rather than store them locally.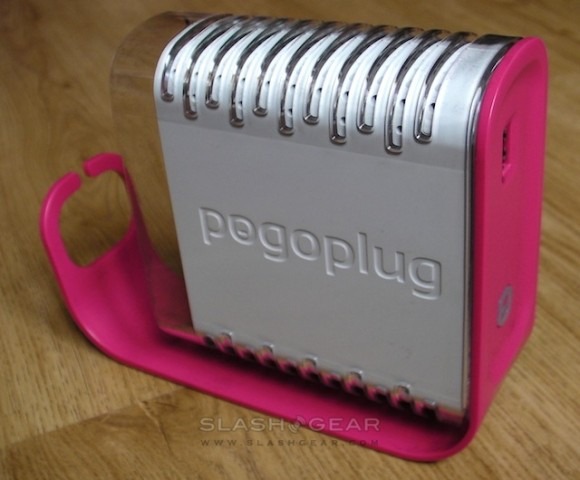 In fact, the only real hurdle was the price: $99 for the magic box itself. Now, with Pogoplug Software, the company is taking on Dropbox and others with a hybrid of the web-accessible cloud model, using local storage and a browser/app-based interface.
Setup and Usability
Rather than plugging in a physical Pogoplug box there's an app to be downloaded instead, available for both PC (roughly 36MB) and Mac (roughly 16MB). That walks you through setting up a new (free) Pogoplug account or logging into your existing one; multiple Pogoplug boxes and app installs can be linked to the same account. Next there's the option to share various preset folders – for instance Movies, Pictures, Desktop and Documents on OS X – and then a quick seven pane tour of the main features.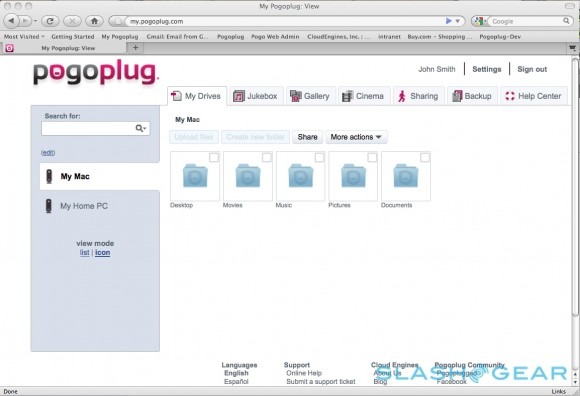 Finally, there's a link to the my.pogoplug.com site, which pops up in your browser already logged in and showing what folders you've shared from your computer. As well as the software client, Pogoplug has updated the web interface and it's much cleaner than before. Any Pogoplug connections – hardware or software – show up in the left hand column, with tabs for basic file manager view, a Jukebox of music files, Gallery for images, Cinema for video, Sharing for any files or folders you've enabled third-party access to, and Backup for automatically copying folders between drives.
Active Copy isn't new to Pogoplug – the company has offered it on its hardware devices before now – but it gets a whole lot more affordable with the software app. Previously, you'd need a separate Pogoplug device if, say, you wanted to keep an offsite backup of certain files on your computer; now, all you need is the free Pogoplug app.
You don't have to access files via the website; the Pogoplug app also adds a folder to your computer through which you can easily see any files that have been shared with you. Sharing was one of the easier elements of the Pogoplug experience, and that's carried forward with the new software. Hit the share button, choose the folder(s) you want to grant access to and then enter one or more email addresses and, optionally, a personal message.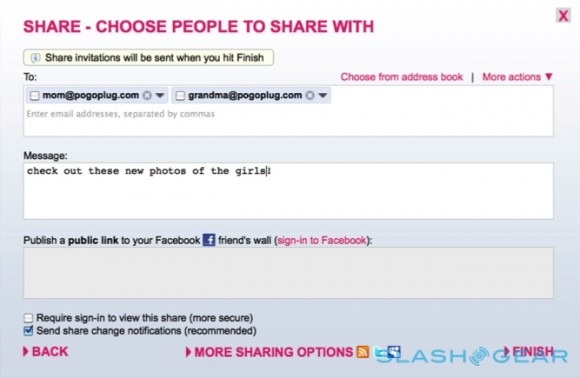 The recipient of a sharing email can, depending on how you've set up the invite, be prompted to create a (free) Pogoplug account or, alternatively, access the files simply by clicking on the link. It's all browser-based, and galleries are automatically animated into neat, parent-friendly slideshows.
You can also automatically add a link to the folder on your Facebook friends' walls, by logging in with your account details and then choosing their names. Alternatively, you can publish a public link to Twitter or MySpace, or indeed open up the folder completely and even create an RSS feed so that people can keep up to date in their reader app.
There are plenty of neat touches. "One View" automatically hides duplicated files from your various Pogoplug drives (physical or software) to make browsing more straightforward, while you can also share folders by simply right-clicking on them, as long as the local settings app is running. That app also allows you to turn on and off remote access, add folders to Pogoplug, choose to share locally-attached printers, manage the Active Copy backup, and set other Pogoplug units to show up as local drives on your current computer.
Streaming and Apps
Although Pogoplug allows you to access files in any folder, it can also stream directly to a mobile device. The company offers an iPad app, an iPhone/iPod touch app and an Android app, from which you can browse your folders as normal or stream photos, music and video without having to store them on your phone or tablet.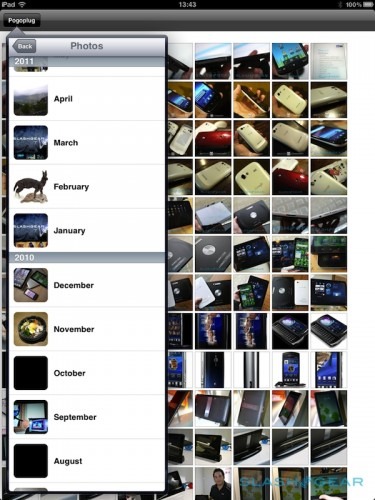 Photo streaming is included in the free package, but there's a one-time, $29 fee if you want to stream music and video. That's per Pogoplug account, not per computer, so you can feasibly install the app on multiple PCs and Macs and only pay the fee once. Physical Pogoplug units include music and video streaming in the purchase price, incidentally.
It has to be said, the iOS apps show more polish than the Android app. The latter is very list-based, and we had a couple of forced-closes during testing. In contrast, the iOS app looks great and makes it very easy to navigate through files and streaming media. There's the choice to share files directly from the app itself, and thumbnails are loaded progressively so as not to slow the whole experience down unnecessarily.
Usability and Security
Pogoplug's usefulness has always been constrained by the size of your pipe. That is, the upload speed your home or office connection has, since you're basically hosting your own cloud. It's fine for documents and photos, but videos and music and be a stretch. Streaming quality it automatically adjusted depending on what upload and download speeds are available, but you definitely won't get the same 1080p experience remotely accessing Full HD video files as if they were stored locally. Similarly, opening up several folders for sharing can, if multiple people take you up on the invite, clog up your connection.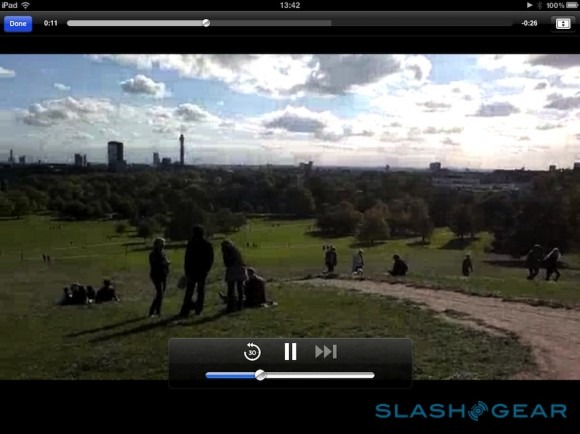 The recent DropBox security debacle has left many wary of cloud-based storage and who might inadvertently gain access to their files. While Pogoplug leaves all your content stored locally, rather than putting it into the cloud, the web-based login does mean that it's potentially vulnerable to hacks and similar. Still, if the worst happens, you can always deauthorize your computer with a single click.
Wrap-Up
Back when we reviewed the second-gen Pogoplug, we praised its ease of use but bemoaned the speed bottlenecks of home network connections and USB 2.0 drives. The new Pogoplug Software carried forward that easy setup and remote access, and while the network limitations are still present, the external drive speed issue isn't necessarily a problem any more.
The obvious competitor is Dropbox, and each service has its compromises. With Dropbox, once you've uploaded files any subsequent downloads are reliant on the service's own fat internet pipe; however, you're also either stuck with a relatively small amount of free space, or paying a monthly fee for a bigger virtual drive. The Pogoplug app gives you as much space as you have local drives, but the limit shifts to being your broadband upload speeds.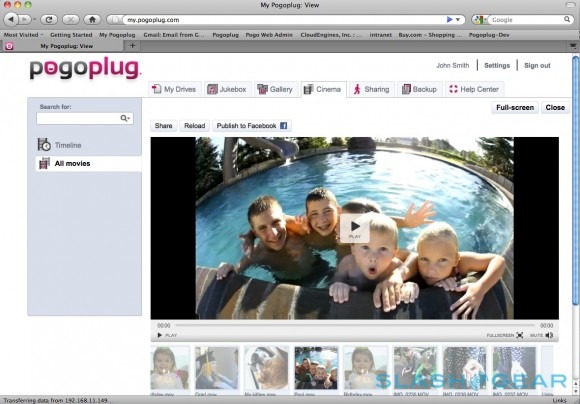 Both offer free starter options, though, and as such there's nothing stopping you from using each of them as the situation demands. If you're looking for a straightforward way to remotely access your files and don't want the cloud in-between, then the Pogoplug software is a great way of doing it. Just make sure you have the upload bandwidth before you pay for the $29 audio and video streaming upgrade.
Want to save $29 and get a free premium upgrade? Pogoplug has offered 200 SlashGear readers a free upgrade: click this link for more details. Be quick, though – once they're gone, they're gone! Update: All of the free upgrades have been snapped up, but Pogoplug is offering a $10 discount for SlashGear readers. Click the link to get premium service for just $19!