Pogoplug add Xbox 360 & PS3 media streaming, remote backup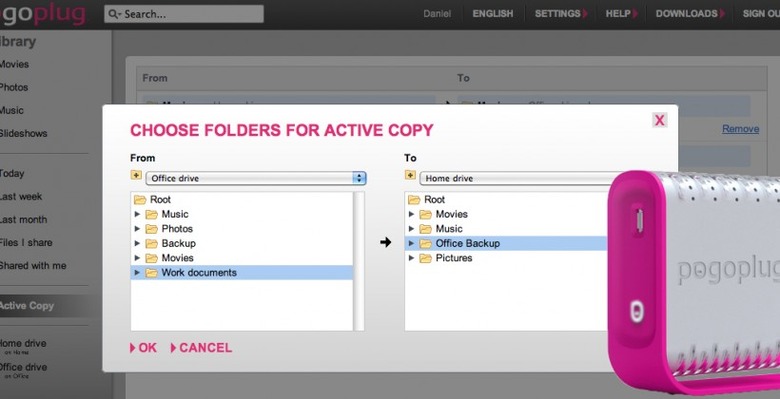 Pogoplug are pushing out a new update for their plug-and-play HDD sharing system, improving media streaming functionality and adding in the ability to set automatic copy jobs.  The new Pogoplug firmware allows for streaming to PS3 and Xbox 360 consoles, presumably using DLNA, while Active Copy can be set to automatically copy files to a remote Pogoplug unit for offsite backups.
According to Pogoplug, your Xbox 360 or PlayStation 3 should automatically see any attached hard-drive and automatically be able to stream video, photo and music content from it across the network.  Meanwhile, the updated Active Copy will obviously require you to have a second Pogoplug somewhere else, but it could be handy if you want to mirror data at both the home and the office.
Pogoplug say the updated firmware will be automatically pushed out to units worldwide from this morning, as long as they have an internet connection.  The functionality answers two of our main criticisms of the device, and brings it back into the game against Iomega's iConnect which we reviewed last week.
Press Release:
Pogoplug™ Launches Media Streaming and Offsite Backup

San Francisco, Calif. – March 16th, 2010 – Pogoplug, the multimedia sharing device that allows users to access their media anywhere on the web, today adds two new features to the award-winning device. Starting today, Pogoplug users can stream content to Xbox 360 and PS3 game consoles. The enhanced Active Copy feature now automatically copies files to a Pogoplug in another location.

With game console support, Pogoplug owners can now easily access, share, and stream their media directly to their Xbox 360 or PS3 from any local or remotely located Pogoplug. Gamers can watch home movies from their Pogoplug connected external hard drive on their Xbox 360 or PS3, share slideshows or listen to their entire music library without ever putting down their game controller. The Xbox 360 or PS3 automatically sees the drives connected to the Pogoplug and the contents of other shared Pogoplugs.

"By adding media streaming capabilities to the Xbox 360 and PS3 through your Pogoplug, we are making it easier than ever to access your media on your television," said Daniel Putterman, Cloud Engines CEO. "The new version of Active Copy is revolutionary. Now anyone can easily keep a safe copy of their files in another location."

Active Copy enables users to backup folders on their computer to a Pogoplug connected drive. Whenever new files are added, or changes are made to an existing file within the Active Copy enabled folder, these files are automatically copied to a chosen destination folder. Now users can also use Active Copy to automatically backup key files from one Pogoplug to another off-site Pogoplug, for additional safety and redundancy.

Both features came from user requests and both update to all Pogoplugs worldwide via an automatic firmware upgrade today. For support or other questions, please visit the support page at www.Pogoplug.com/support and the community website, www.pogoplugged.com.