Pocketbook ereader range & Android tablet revealed; mirasol model in development?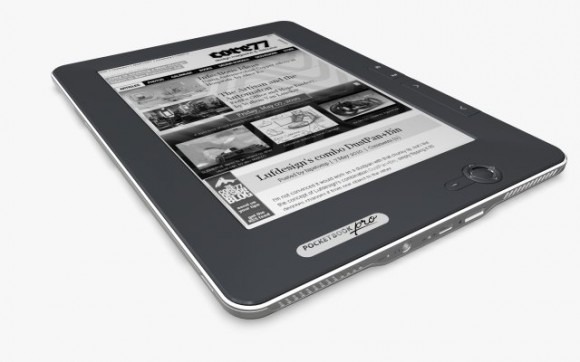 News on ereader manufacture Pocketbook's plans for IFA 2010 ahead of the show, with four new ereaders and a tablet all emerging from the company's press division.  The Pocketbook Pro 602, Pro 603, Pro 902 and Pro 903 each have WiFi and Bluetooth, with the 60x models using a 6-inch E Ink display and the 90x models getting the 9.7-inch version.  The Pocketbook IQ, meanwhile, is an Android 2.0 tablet.  However, according to The Digital Reader's sources, Pocketbook are one of Qualcomm's initial mirasol clients, and are working on a new device using the color e-paper display.
It seemingly won't be ready in time for IFA early next month, however, so we'll have to make do with the five models the company is willing to tell us about.  Both the Pro 603 and Pro 903 have integrated 3G modems and Wacom touchscreens, too, presumably for ebook annotation.
Each of the ereaders runs Pocketbook's open-source software and have wireless access to the Bookland ebook store.  Onboard storage is 2GB – we're guessing it's expandable – and Foxconn are apparently the OEM tasked with building the new range.  No hard specifications on the Pocketbook IQ tablet, beyond that it will be available in a choice of three colors,
[via Lesen]