PMA 2009 - Meika Digital Affordable Battery Grip for Canon 5D Mark II Hands-on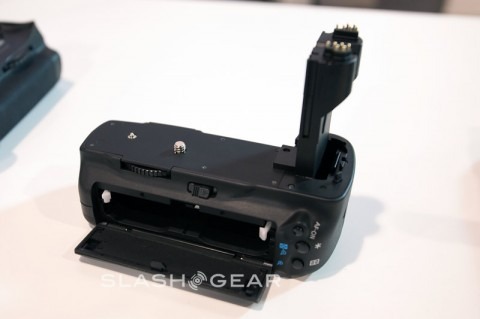 Canon 5D mark II might have won award for its 21MP brilliant image quality at $2,699, but there are not many accessories yet worth any award. The BG-E6-battery grip is not as nice as many has expected, retailed at $380 ($275 street), it features the same old design with no significant improvement but the higher price. If you're in market for one, hold on your horses, 3rd party battery grip for 5D mark II is coming at half the cost.
While roaming though PMA 2009 remaining booths, we saw two displays of 5D Mark II battery grip, one of them is a working unit (tested, all feature working) and readied to ship within a month. Craftsmanship and material used are OEM quality, and will be selling at estimated street price slightly above $100, "at least 50% off " according to HK
Meika
Meike Digital technology. We didn't get much information out of the other "brand", the product manager said it's not readied for mass production, and insisted us not to take picture.
I figured I could ebay my $380 Canon's overpriced unit and grabbed two of the
Meika
Meike for less; but unfortunately they only have one unit for display.
Meika
Meike said to look forward on Adorama online for much affordable 5D mark II battery grip, first shipment is said to run around 5000 units.
Additionally, another new product from
Meika
Meike is Canon and Nikon mounted 1.4x Tele converter with in-house optics. A quick and dirty test shoots with 5d mark II, 85L plus the
Meika
Meike TC coming soon.