Pleo competition finds ten wordy winners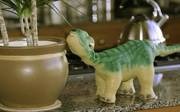 Remember this rubbery little bugger?  Yes, that's right, it's Pleo – the robot dino who's almost guaranteed to kick every other home automaton out of the playroom and into the trash compactor.  Back in February we brought you news that Ugobe was promising ten of the cold-blooded cuties to winners of an essay competition.  Entrants had to answer the following question:
"How do you envision robotic life forms influencing or touching your life in the next five years?"
Well, the entries are in and the judges have had their say; you can read the top ten over at Ugobe's site, but there are some highlights after the cut...
"Having conducted research with companion animals (dogs and cats) with older adults in nursing facilities, I was drawn to the power of non-humans to reach those that have withdrawn into their own world as a result of abuse, and or neglect. Children naturally gravitate toward play and Pleo is a natural in the play therapy setting" Jeff 
"I think it would be AWESOME to have a dinosaur pet in my room. My Grandpa would want to take it and I'd have to bug him to give it back if I let him look at it. He got me into robots and dinosaurs in the first place and he's building a robot himself" Zack
"Someday soon I will wake up to two small loving faces. Both will be born of magic, and both of love, and I will love each face equally. But one face will be a dream made from nature and the other a dream made from technology" Robert
Congratulations to all ten winners!
Ugobe Pleo competition [thanks to Robert for the tip]