PlayStation Classic Pre-Orders Go Live: Here's Where To Get One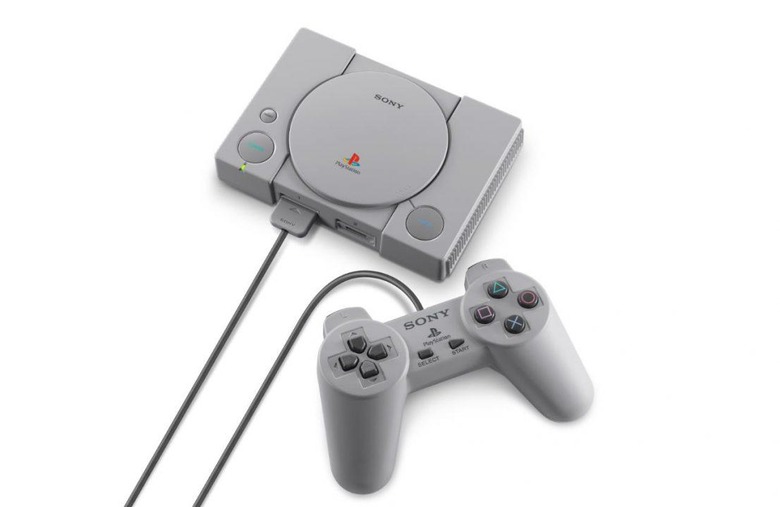 Earlier today, Sony announced the PlayStation Classic. This new mini console promises 20 PS1 games pre-loaded onto a shrunken-down replica of the original PlayStation console, which just so happens to be celebrating its 25th birthday this year. Though it won't be here until December, it's gone up for pre-order today from a number of different retailers.
If you already know that you want a PlayStation Classic, it might not be a bad idea to pre-order one. The NES Classic and SNES Classic were both met with a lot of enthusiasm at launch, with the NES Classic being notoriously difficult to find for much of its original retail run. By the time the SNES Classic hit shelves, stock issues certainly got better, but they weren't solved entirely.
It stands to reason that there will be similar excitement behind the launch of the PlayStation Classic. The original PlayStation was a turning point for the games industry, and by the time it was discontinued in 2006, it had sold more than 100 million units worldwide. The fact that it's one of only three home consoles to cross the 100 million threshold should reinforce the notion that the PlayStation Classic could be a big launch for Sony.
If you want to pre-order one, you can do so today from GameStop, Best Buy, and Walmart. A listing for the console hasn't gone live on Amazon just yet, but we imagine it will before long. At all three retailers, the PlayStation Classic will launch on December 3 for $99.99.
If you're on the fence about the PlayStation Classic, it's probably a good idea to hold off on pre-ordering. So far, only five of the 20 included games have been revealed, and while there are some big names among them, it could be risky to pre-order based on those five alone. This is also one of the most expensive mini consoles we've seen so far, so waiting until we hear more is definitely a smart move.
What do you think of the PlayStation Classic? Are you excited for it? Do you think it'll be as successful as the NES Classic and SNES Classic? Head down to the comments section and share your thoughts!