PlayStation 4 E3 2014 game trailers rundown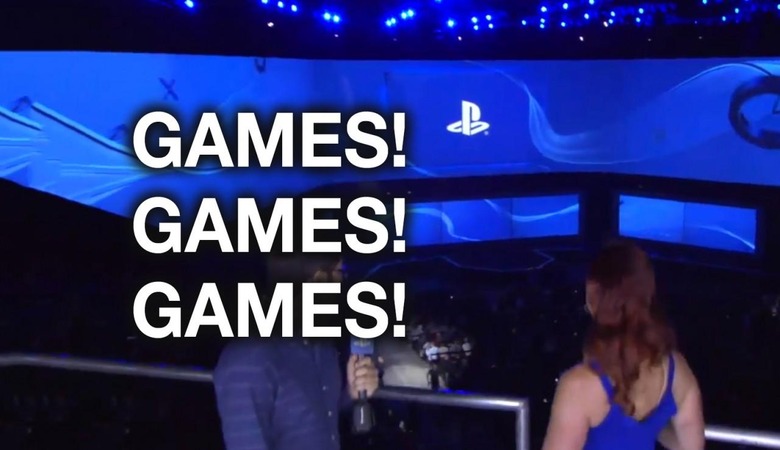 The war between Sony and Microsoft continues this year at E3 2014 with a battle of the games. While last year became a war with hardware, waves of games – not just apps – have come in with impressive presentations to spare. Faced with exclusive releases and the new Kinect-less Xbox One release this season, Sony's PlayStation 4 came out DualShock's blazing.
The first big punch to the gut Sony came forth with was the Destiny PS4 bundle. This includes a new White PlayStation 4, White DualShock 4 controller, and Destiny itself. You'll also be able to play Destiny on PlayStation 4 before Xbox One if you're one of the lucky few who get to join in on the Alpha this week.
Below you'll see the first trailer for inFAMOUS First Light, the next chapter in the PS4-exclusive inFAMOUS series that's done so well this year. This game features a female lead rather than 2014's male lead, and we'll be continuing to roll with hipster graphics.
The Order: 1866 is another AAA title headed for PlayStation 4, and another that's been in development for well over a year. This game also headlined at E3 2013 before the PlayStation 4 was released, and now looks all the better for its past year in the shop.
It's time for the second chapter on the zombie tip with Dead Island 2, another title that'll be busting forth on PS4 to fill out its undead collection.
With Bloodborne, you'll be rolling out from a 3rd person perspective to face your gothic fears aplenty. There'll be no lack of next-gen horrors here, and you'll be carrying a torch to light your way.
Busting out the DLC action with "Intercept," one of the finest launch titles to be released with the PlayStation 4 continues with Killzone Shadow Fall. Here you'll be getting much more massive than before, and the game continues to look more detailed as it evolves.
A recognizable hero for the PlayStation lovers of the universe returns with LittleBigPlanet 3. This game will be rolling with familiar gameplay in a whole new plane of existence for the near future.
Perhaps the biggest title you've already played that'll be re-releasing to PlayStation is The Last of Us. This new title goes by the name The Last of Us Remastered and it'll be released to PlayStation 4 first – this is our first extended glimpse of the game.
Fans of long-lasting series are really going to enjoy the near future of Sony's PlayStation as games like Uncharted 4: A Thief's End continue to roll out. This trailer should suffice while more full gameplay action comes soon enough.
Though it's also coming to Xbox One and the PC, Sony held the announcement as their own – Grand Theft Auto V coming your way soon. This game has been on Xbox 360 and PlayStation 3 for several months, headed to PS4 this year.
Continuing to deliver one of the most ravenous sets of fans in the industry, Metal Gear Solid V: The Phantom Pain is certain to continue to roll in the players. The only thing odd about this title is its continued mystery – it still has no launch date.
We knew Batman: Arkham Knight was coming, but we didn't expect it to look at large as it does here. This game will be coming to most platforms at launch time, but again – Sony pushes its rights to show it off first here.
For the kids there's Ratchet & Clank. This is a film trailer, believe it or not, and you're going to have no trouble falling in love with this little fellows once again.
The most potential for sprawling bigness award must go to No Man's Sky this year as the first gameplay trailer is shown off on PS4. This game is going to consist of a number of planets, several different kinds of gameplay, and discoveries – it's generated by computers and you've got to decipher it for yourself.
The strangest presentation at the PS4 event had to be the Grim Fandango Remake you're about to see. Don't say we didn't warn you.
Another horror beast of a title comes in Let It Die – though we're not seeing the suggestion here to be long-lasting. Instead this very adult title looks like it'll be a thrill ride for those that like non-traditional combat.
The most well-known title on the list also has no final video to show for itself – yet. This is Mortal Kombat 4, and we're sure to see more by the end of the week.
Then there's PlayStation TV. If Microsoft's response to the PlayStation 4 costing less was to ramp down their package, Sony's response to Microsoft was to ramp up. This device changes the way you'll "game" in your living room.
Stick around SlashGear as we hit the E3 2014 tag portal all week long. We'll have more trailers and gameplay than you'll know what to do with!