PlayBook 4G WiMAX Version Revealed By Google Search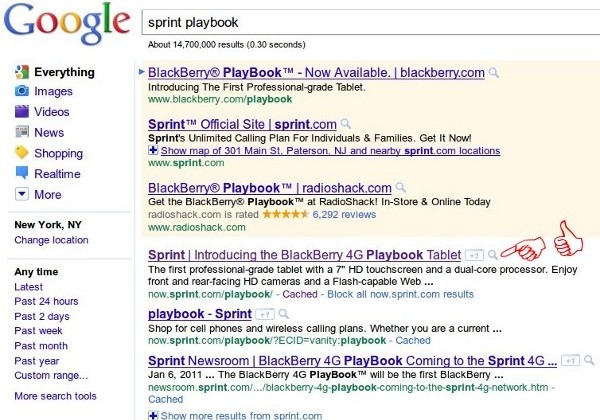 The BlackBerry PlayBook has not been getting much attention lately thanks to the slew of new tablet developments including this morning's ASUS Padfone, but a little Google search revelation has brought the PlayBook back on the radar, if even only a blip. The WiFi version of the PlayBook has been out for some time now, and it's 4G brother may finally be ready to make an appearance.
It looks like the carrier version of the PlayBook will be making its way to Sprint as a 4G WiMAX tablet. A tipster pointed out that if you search for the words "sprint playbook" in Google, that the number one unsponsored result is a Sprint product page for a BlackBerry 4G PlayBook tablet. When you click through, you are redirected to another Sprint page, but there's enough product information in the search results to indicate that the page should be legit.
However, it really doesn't clue us in as to a date and price for the 4G PlayBook, but it does confirm reports that this tablet version will launch by summer, as it indicates Sprint's been readying the product page. Despite critical reviews of the PlayBook's premature firmware and some recent battery life issues due to a firmware update, the tablet seems to be selling quite well. A 10-inch version is even rumored to arrive before the end of this year. Are you excited about a 4G PlayBook running on Sprint's WiMAX network?
[via Engadget]