Plastic Logic flexible smartphone epaper companion hands-on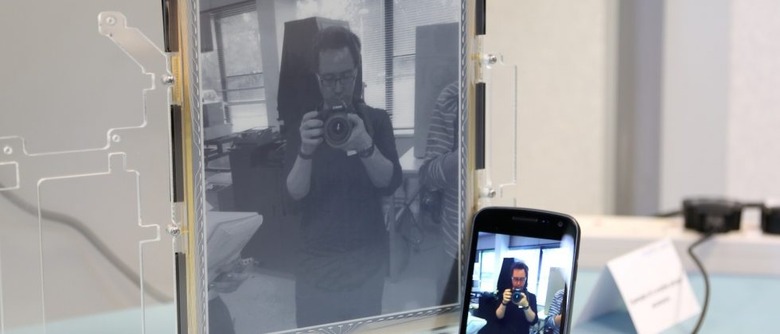 The must-have smartphone accessory of tomorrow might just be an unbreakable touchscreen epaper tablet, saving your eyes from squinting at a mobile display. Plastic Logic revealed its work-in-progress slate to us today, as SlashGear browsed the goodies in the company's UK R&D center, confirming that talks with several manufacturers and carriers are ongoing to bring the companion device to market. Potentially bundled with your next smartphone could be a 10.7-inch super-light touchscreen pane for easier viewing of webpages, documents and more.
The concept behind the idea is straightforward: smartphones are incredibly capable, powerful devices, but in being portable they also demand a huge compromise on screen size. Even the Galaxy Note, with its 5.3-inch display, is considerably smaller than the average tablet, and that can make reading news, ebooks, presentations and other content frustratingly uncomfortable.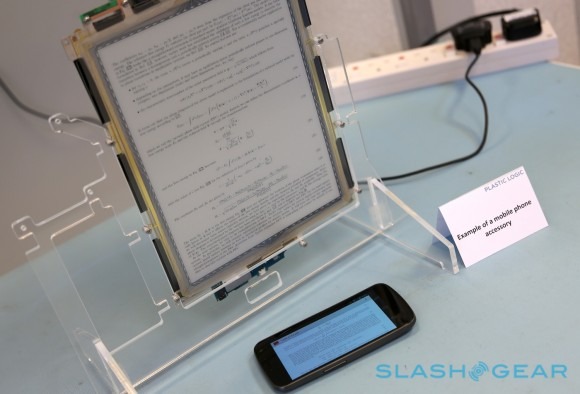 Plastic Logic's idea is an ultra-thin companion device using one of its plastic-transistor based displays, paired with a wireless technology such as WiFi or Bluetooth, a battery, touchscreen, and a smartphone app – currently a hastily-cobbled-together Android app – that exchanges data between the two devices. With that app, users could squirt over emailed documents or webpages to the epaper, paging through using the onscreen controls. Alternatively, you can do the same thing with photos taken with the phone, which could be useful for those with partial-sight wanting to enlarge pages.
Although Plastic Logic bills its displays as flexible, in this context the company says its potential carrier partners are more focused on a rugged device: something that can be dropped into a bag or briefcase without concerns that the screen might crack. Rather than the Heath Robinson prototype, the final design is envisaged as a slim frame with a carry-handle on the top that would contain the electronics, battery and other components.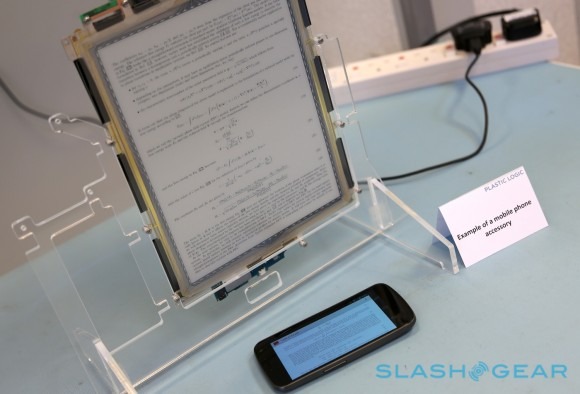 Battery life could be a real advantage over existing tablets. Since the Plastic Logic display only uses power when it changes the on-screen image, it's far more frugal than a traditional LCD or OLED. That could mean 2-4 weeks use on a single charge, potentially, though final runtimes haven't been confirmed.
In practice, use is a simple affair. The rudimentary app allows you to pick a file and share it to the display – in this prototype's case, using a WiFi connection – and, after a couple of seconds, it blinks into life. Photos are shown full-screen and, while it's currently monochrome and obviously lower resolution than a new iPad, it's still easier to look at than a compact phone screen. As for multi-page documents, like PDFs, they can be paged through with a few stabs at the on-screen buttons, though there's the usual blink-refresh we're familiar with from other e-paper products. That should change if Plastic Logic uses one of its video-capable panels, which has a higher refresh rate.
The deciding factor is likely to be price: Plastic Logic and its partners would need to bring this in significantly lower than regular tablets, which could be a challenge given the $199 Nexus 7 announced yesterday. The company wouldn't give us an estimate – it depends on who supplies the rest of the components and builds the slate, as well as how carriers decide to market it – but the idea of it being supplied as a freebie with a new phone was vaunted.