Plantronics weaves Bluetooth into Quiksilver & Roxy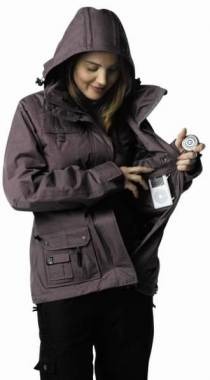 Last year Krunker reviewed a jacket that used Eleksen's fabric-keyboard technology to put iPod controls on your sleeve.  Now they came to the conclusion that it was a great thing (if you often listen to your iPod while outside), but perhaps Plantronics latest endeavour with Quiksilver and Roxy to put Bluetooth-enabled headsets and headphones into a range of jackets and helmets. 
Now, instead of running cables round a variety of rubber gussets (oh how I love that word!), drop your Bluetooth-equipped cellphone, DAP or iPod-with-Bluetooth-dongle into your pocket and relax in the knowledge that you're connected.  Both mens and womens ranges will be available, with prices starting from $249.95 for helmets and $340 for jackets.