Plantronics Voyager PRO gets European launch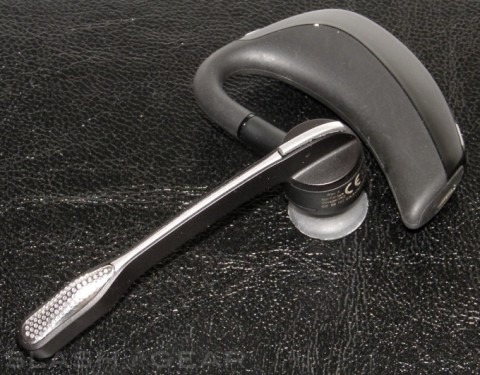 Plantronics Voyager PRO Bluetooth headset was good enough to make even Vincent look twice at his Jawbone PRIME, and it remains the SlashGear choice if you're looking for a sturdy, long-lasting hands-free kit with excellent audio quality.  Now Plantronics have announced European availability for the Voyager PRO, with the headset going on sale for £79.99.
It's not a small headset, but it does come packed with audio-processing cleverness.  Plantronics' AudioIQ2 DSP system includes wind-cancellation and ambient noise removal, together with WindSmart thanks to dual-microphones and acoustic fabrics.  Battery life is estimated at up to 6hrs talktime or five days of standby.
In the UK, the Plantronics Voyager PRO will be available from the company themselves together with carrier Orange and Apple stores.  If you're in the US, you can already pick up the Voyager PRO for around $100. 
Press Release:
NEW PLANTRONICS VOYAGER PRO BLUETOOTH HEADSET WITH AUDIOIQ2 DELIVERS BREAKTHROUGH IN SOUND QUALITY AND COMFORT

Advanced Design Combines Superior Noise Cancellation,

Wind Reduction and Inbound Audio

London – 22nd June, 2009 – Plantronics, Inc. (NYSE: PLT) today continued its 47-year legacy of audio expertise and ingenuity with the new Plantronics Voyager® PRO Bluetooth® headset. Plantronics Voyager PRO features AudioIQ2, the next generation of its AudioIQ digital signal processing (DSP) technology, to deliver superior noise and wind cancellation as well as rich, natural inbound audio so you can hear and be heard clearly.

The Plantronics Voyager PRO is the successor to the popular Plantronics Voyager 510 Bluetooth headset, a cult favorite among headset enthusiasts. Like the Voyager 510, the new Plantronics Voyager PRO is designed for mobile professionals who need all-day wearing comfort and excellent audio wherever they are working.

Engineered for Sound Quality

Today's headset users expect great noise cancellation and Plantronics Voyager PRO delivers it with AudioIQ2 and a unique adjustable dual-microphone boom. While other headsets deliver noise cancellation at the expense of overall audio quality, the boom provides the advantage of capturing your voice close to your mouth so the AudioIQ2 technology can more effectively remove ambient noise, while still maintaining the natural sound of your voice.

The headset also effectively minimizes wind noise – a major cause of disruption during calls. Plantronics Voyager PRO features three layers of WindSmart® technology. Dual external stainless steel microphone screens and acoustic fabrics that surround the microphones together provide substantial physical barriers to wind noise. At the same time, the AudioIQ2 DSP algorithms intelligently decipher your voice from the wind to deliver clear sound to your listener.

Finally, Voyager PRO delivers unmatched inbound audio quality to ensure every word is heard on both sides of a conversation. It features a custom speaker that delivers full-spectrum audio so conversations are richer and more vibrant. The adaptive 20-band equalizer delivers distortion-free audio and works with AudioIQ2 to automatically adjust sound levels based on the noise level around you to ensure maximum audibility.

"Plantronics is singularly focused on one thing – the headset perfected. With the Plantronics Voyager PRO we set out to engineer a high-performance headset for today's professional user who not only demands unparalleled sound quality on both sides of call, but also insists on comfort and usability," said Stuart Bradshaw, EMEA Marketing Manager for the Plantronics Mobile Division. "Voyager PRO breaks new ground in Bluetooth headsets, and consumers will be delighted by the total experience."

Engineered for Comfort

The Plantronics Voyager PRO endured an extraordinary 24 rounds of human factors testing to perfect the design for all-day wearing comfort and stability. The behind-the-ear wearing style is perfectly counterbalanced so weight is distributed evenly, rendering it virtually weightless when worn. The Voyager PRO ear tip is made of soft silicone for an optimal fit and features a "sound channel" that helps distribute audio evenly to the ear.

Engineered for the Mobile Professional

The Plantronics Voyager PRO was designed for the mobile professional user. It includes easily accessible power, volume and mute buttons. It can seamlessly connect to two different mobile phones with multipoint technology, and it folds up easily for storage. The Voyager PRO also features voice prompts for low battery warnings and mute status. Finally, the lithium polymer battery provides up to six hours of continuous talk time and five days of stand-by time, exceeding the talk and standby times of most mobile phones.

Pricing and Availability

The Plantronics Voyager PRO is available for £79.99 at www.plantronics.com, Orange and Apple. For more information about the Plantronics Voyager PRO, please visit: http://www.plantronics.com/voyagerpro.

About Plantronics

In 1969, a Plantronics headset carried the historic first words from the moon: "That's one small step for man, one giant leap for mankind." Since then, Plantronics has become the headset of choice for mission-critical applications such as air traffic control, 911 dispatch and the New York Stock Exchange. Today, this history of innovation is the basis for every audio product we build for the office, contact center, personal mobile, entertainment and residential markets. The Plantronics family of brands includes Plantronics, Altec Lansing and Clarity. For more information, go to www.plantronics.com.