Plantronics Voyager 5200 Review - A headset for the unpredictable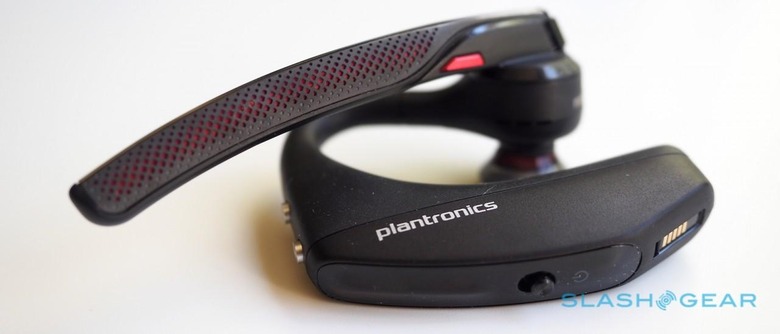 The Bluetooth headset might not be the first accessory you think of when considering the "extreme" lifestyle, but Plantronics believes you're missing out. Its new Voyager 5200 picks up where the Voyager Legend left off, boosting microphone performance for tough and changeable conditions, and improving ergonomics for all-day use.
Plantronics focus this time around has been unpredictability of environment. While the Legend is designed to handle the everyday demands of frequent callers, the Voyager 5200 factors in the whims of the truly mobile – whether that be in the car, walking down a loud street, in a co-working space, or anywhere else that background noise is an issue.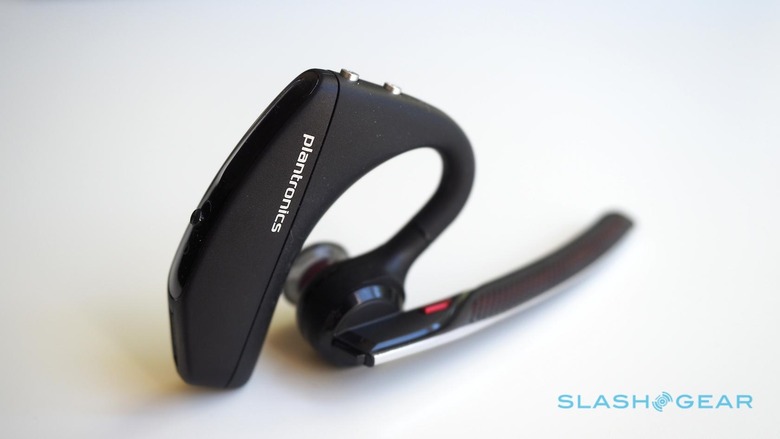 So, the boom arm and earpiece still rotate to suit left or right ear wearers, but the arm is now shaped like an airplane's wing so that airflow moves around it more smoothly, and it contains four microphones rather than the three of the Legend. Each is mounted in its own, individual bay, covered by two layers of mesh barrier.
By isolating the microphones, the headset's DSP can individually compare the input from each and figure out which are doing better at picking up the wearer's voice and which are getting background noise, then adjust the gain levels accordingly.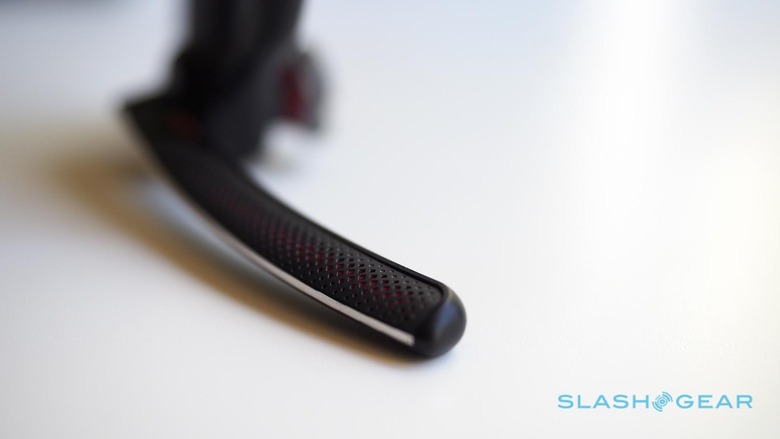 It's not the only physical change. Charging is via a microUSB port now, though the proprietary magnetic docking port remains, working with the optional $39.99 charging case. That can either store the Voyager 5200 inside, or the headset can sit upright atop it for easier access while recharging; either way, you get two LED indicators to show battery status of both case and headset.
Plantronics says the Voyager 5200 alone should last for seven hours of active use, and that the charging case is good for two full recharges. If they're both dead, charge priority is given first to the headset and then to the case.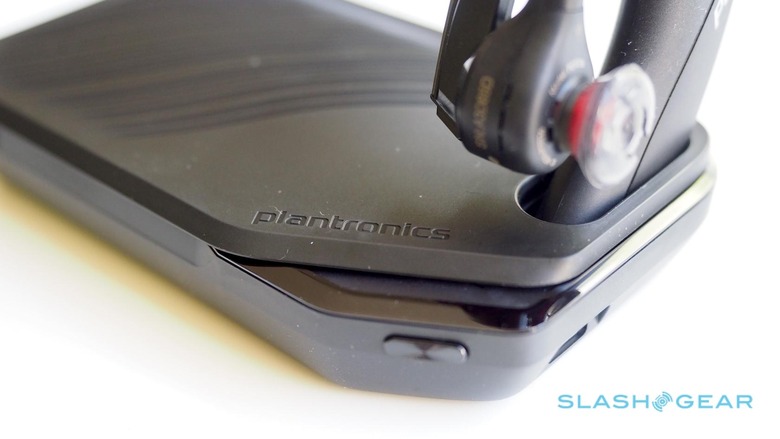 In practice, even after a week of sporadic use in the car and at my desk, I've not yet exhausted the battery case. Admittedly I'm not the sort of road professional who is constantly making calls (neither am I an Extreme Urban Warrior, for that matter), but the combination of Voyager 5200 and charging case seems more than enough for the casual user like me.
As for audio itself, I dropped the windows and tried making calls while driving, expecting noise to overpower whoever I tried to speak to. Instead, while there was definitely wind noise to contend with, I could still make out the caller and they could hear me, which counts as a win to me.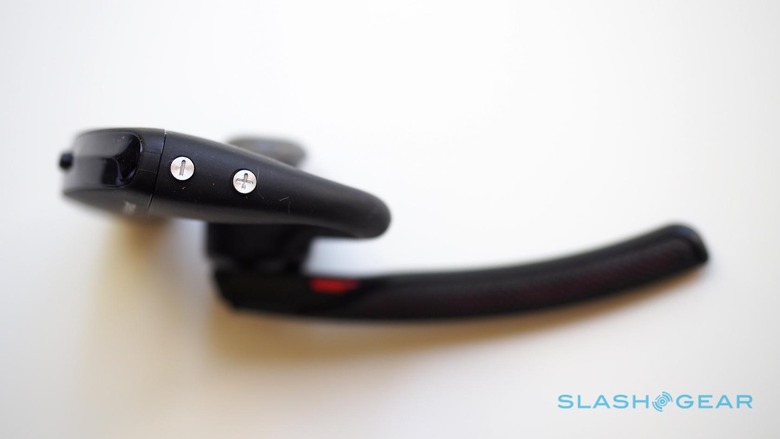 Meanwhile, there's a new layout for the controls, with the volume buttons moved to the top of the headset rather than the rear. It certainly makes them easier to reach, but even more useful is the audible warning if you start speaking while the Voyager 5200 is muted.
If you've got Plantronics's BT600 USB Bluetooth Class 1 dongle plugged in, and the company's Plantronics Hub software installed on your computer, you'll get a pop-up notification for the same thing, and the BT600's LED turns red when the Voyager is muted too. Unfortunately Plantronics couldn't provide a BT600 for my testing, though the headset will of course work with your computer's native Bluetooth, albeit not necessarily with all the smart sensor support and other features.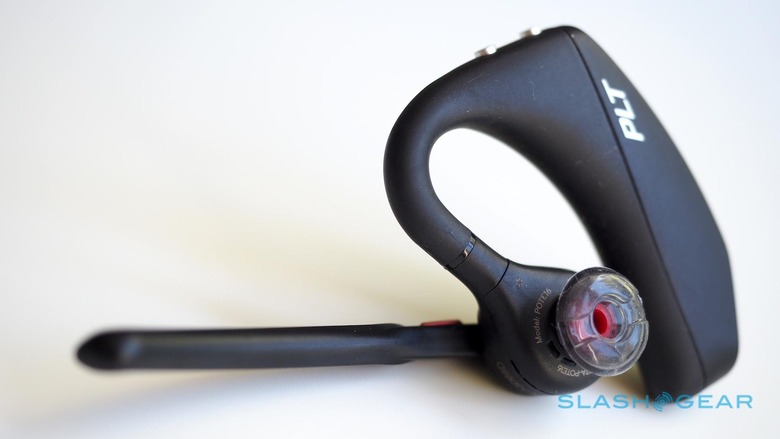 That's a shame, because the smart sensors turned out to be surprisingly useful. You can have the Voyager 5200 automatically answer an incoming call when you put it on, no button-presses required, or transfer an ongoing conversation to your phone when you take it off. If you're listening to music or an audiobook, taking the headset off will pause them.
Alternatively, you can use the new multifunction button on the boom for control. Exactly what it does depends on the situation: it'll answer a ringing phone, mute an ongoing call, play/pause streaming A2DP audio (though I had issues getting it recognized by Spotify on iOS), or trigger whatever virtual assistant – Siri, Cortana, or Google Now – your smartphone supports.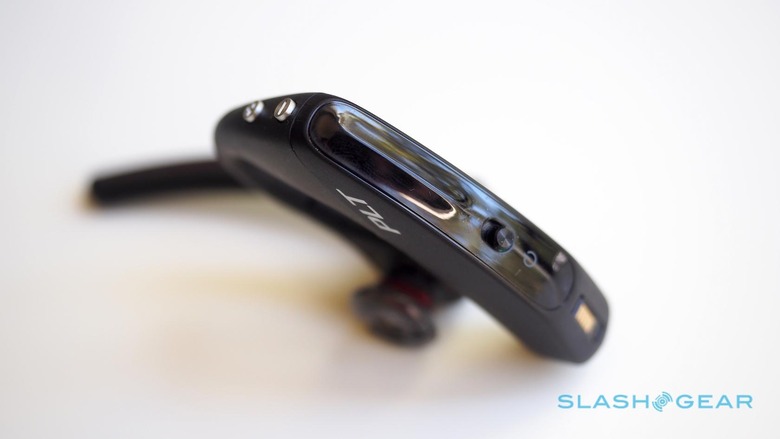 How valuable that is depends on how much use you make of those assistants, though it's undoubtedly helpful while driving to be able to request directions and have the instructions discretely whispered into your ear.
Plantronics' competition in the premium Bluetooth headset space keeps shrinking, and you could forgive them for scaling back their own roadmap pace accordingly. On the contrary, the Voyager 5200 has plenty of neat features beyond the solid audio performance: the P2i splash-proof coating which means rain needn't be a barrier to conversation, for instance.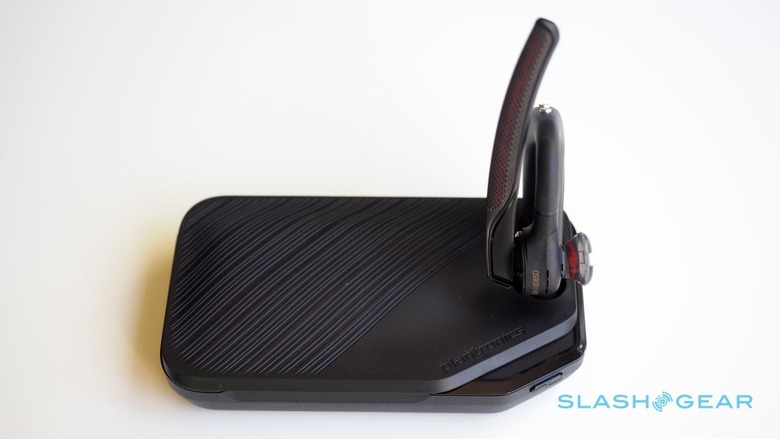 Still, there are a couple of areas I think are due some attention all the same. As an increasing number of high-end laptops move from the regular USB port to USB-C, the BT600 dongle starts to get unwieldy when plugged in via an adapter; I've a feeling the ultra-mobile target audience at which the Voyager 5200 is aimed at are also those who will embrace USB-C the soonest, too.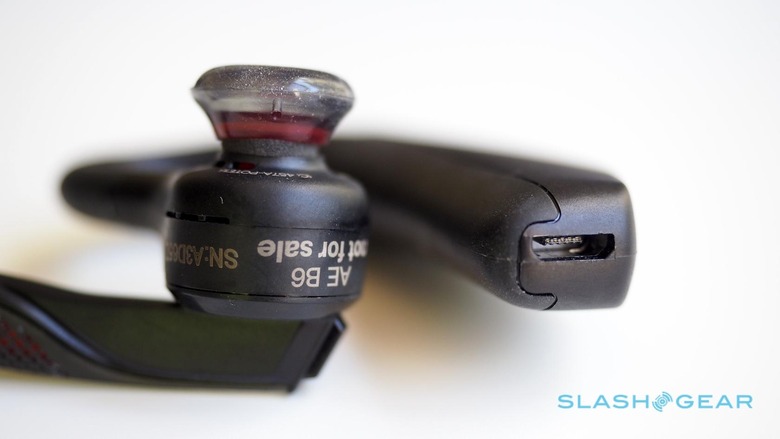 Plantronics tells me it's looking at USB-C, though has nothing to announce yet. For the moment, the easier option for those with a 12-inch MacBook or one of the latest breed of Windows ultraportables that lack USB Type-A is using the native Bluetooth, even if you miss out on some features along the way.
Similarly, though the Voyager 5200 can save pairing details for up to eight devices, only two active connections can be held simultaneously. Plantronics tells me I'm in the minority for wanting more than that, but I suspect those carrying a laptop, phone, and tablet might argue differently.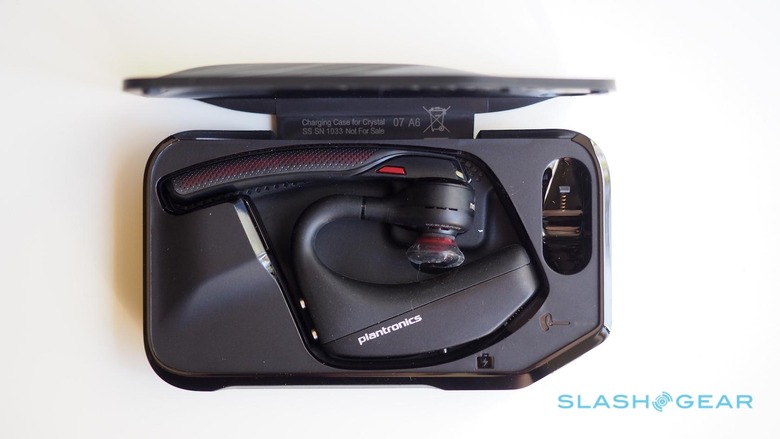 Nonetheless, if you're looking for a pro-quality Bluetooth headset with little compromise on noise quality and battery life, there's a lot to like about the Voyager 5200. It's lightweight but sturdy, comfortable over extended periods, and the various active and passive noise-cancelation systems add up to excellent sound.
The Plantronics Voyager 5200 is available now, priced at $119.99, with the charging case $39.99 and the BT600 another $59.99. Alternatively, there's a Plantronics Voyager 5200UC bundle – the "UC" stands for "universal communications" – which includes all three for $219.99.