Plantronics M55 Bluetooth Headset Review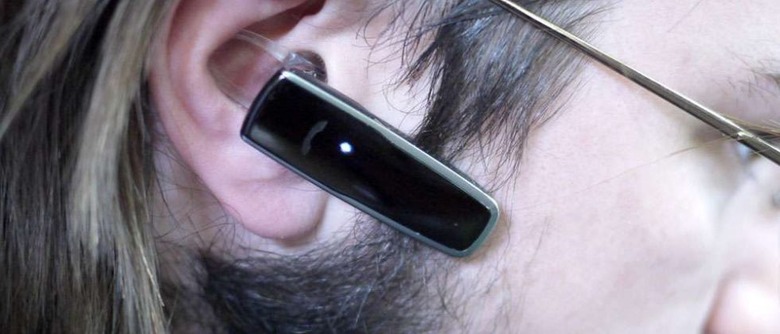 We've got a brand new Bluetooth earpiece on the review bench today by the name of Plantronics M55, ladies and gentlemen, and this little beast is rather well put together. This is one of many reviews we've done of Plantronics Bluetooth devices, this certainly not the least of the pack – the M55, in other words, is a perfect example of how well Plantronics is evolving in the Bluetooth headset game, taking here a stylish minimalistic form and pairing it up with next-level abilities and a rather inexpensive price point.
You've got two simple ways to wear this earpiece, one of them being a hook which holds the piece down over your ear, another being a brand new clear ear tip which Plantronics lets us know is their newest concentration for getting this piece to stay in your ear with finesse. This little clear ear tip is extremely flexible and yet holds the earpiece in your ear securely as it fits comfortably right in the side of your head. The photo you see above shows how nice the piece looks and fits in the ear and on the head with just the ear tip in, no hook necessary.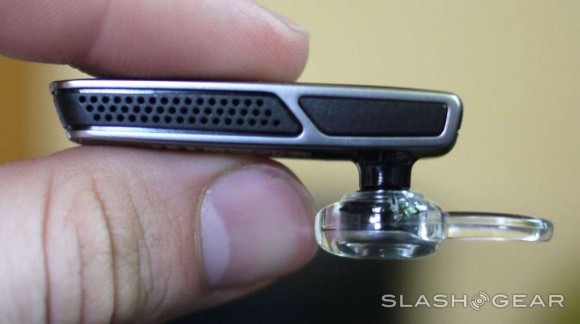 In testing the device, I had no trouble going through the simple pairing operation required to connect to any and all Bluetooth devices I had on hand, be they the iPad, several Android handsets, or a notebook computer. To pair this device to any of your Bluetooth-capable devices, you've just to hold down the Call button for several seconds until the indicator light flashes red and white – you'll be pair-ready from there.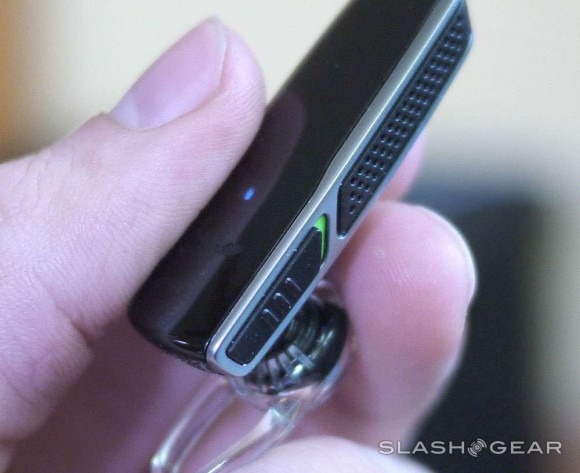 The Call button on this device is unmistakable as it's essentially the entire side of the hardware, it requiring just a series of taps and holds to activate any of its many numerous functions. For the most part, you'll be using this device to make and take calls and conferences, and you will be satisfied by the quality on both ends. The little notches on the sides of the device are there for noise cancellation, and they certainly do work well – much better, in fact, than most of the budget-level Bluetooth earpieces we've ever laid eardrums on.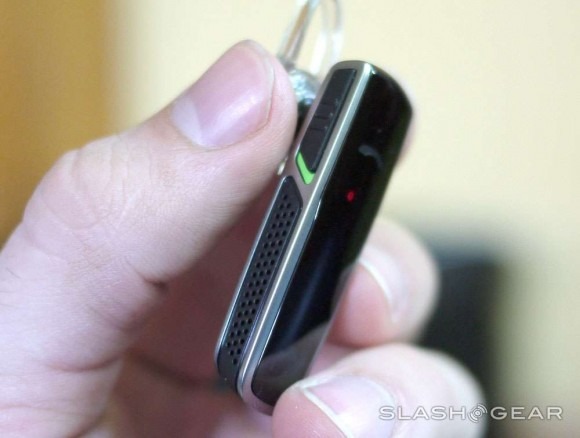 Speaking with people through the earpiece resulted in clear, nearly perfect quality on the other end, with exceptions being of course when you're in intensely crowded areas. This sort of situation is always going to result in you not having the most fantastic voice quality unless you're going for a much, much higher cost headset – at the price you're paying for the M55, the quality is excellent.
This device has such fantastic battery life that you'll more than likely not have to charge it more than once or twice a year. We've not gotten to hold on to the device and use it for more than a year quite yet, but according to Plantronics, this device's new DeepSleep mode will have your headset into such a deep sleep that its using up next to no battery life at all when its not being used. This DeepSleep function is activated automatically if 90 minutes have passed since you last been in-range of a paired Bluetooth device. NOTE here that the photos we've got are of the pre-production model – the final model will look and function exactly the same or NEARLY exactly the same as this unit, so says Plantronics.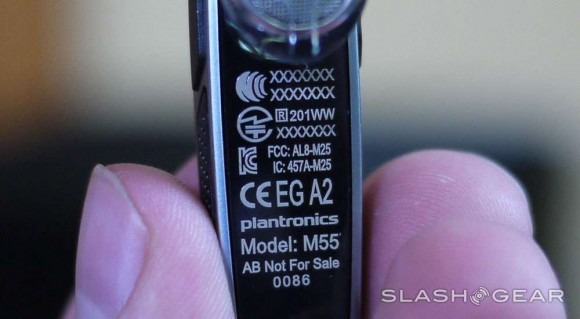 Another fabulous function you get with this device is voice activation in the form of being able to say "Answer" when you get a call on a paired smartphone device. This device can also pair with up to two smartphones in the same area at once, both of them then hooked up with this same voice-activated call-answering ability. The M55 comes with a free full year of Vocalyst Basic, this being a service which can give you voice email, news, weather, and reminders right to your ear, this service normally $2.49 a month or $24.99 a year with this headset. As a bit of a bonus, this service can automatically upload audio clips at your request just so long as you're paired with an internet-connected device at the time – fun for everyone, without a doubt!
This device is certainly worth the cash you're going to spend on it at just $50, coming to the Plantronics online store soon! Have a peek at our timeline of Plantronics reviews below to see their full line of Bluetooth-capable audio devices and let us know what you think when you've got them in-ear!