Planon DocuPen X05 portable scanner review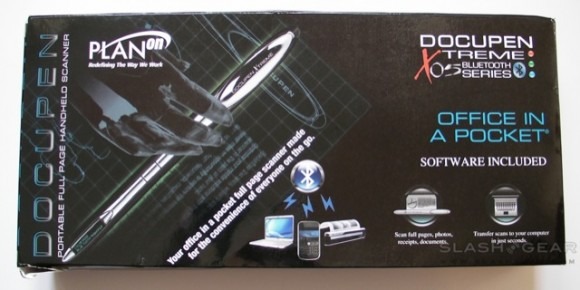 Scanners, unsurprisingly, lag behind other areas of consumer electronics when it comes to raw appeal, but if you're determined to grab attention then Planon's DocuPen X05 isn't a bad place to start. A slender, battery powered scanning wand, the X05 squeezes an OLED display and Bluetooth into a mobile document capture tool, small enough to drop into any laptop bag. Check out the full SlashGear review after the cut.
The dimensions of the X05 are constrained by its need to cover the width of a regular sheet of paper, though its scanning area is – at 8-inches across – actually a little narrower than either an A4 or "letter" document. Overall it's 8.5-inches long and roughly the thickness of a Sharpie marker. Planon supply a leather zip-case and you'll want to use it; the glass scanning window underneath is exposed and fingerprints won't do your scans much good.
Also in the box there's a driver CD, a quickstart guide, a copy of PaperPort SE (Windows only) and a USB cable which is used to charge and sync the X05. We're disappointed that Planon used a proprietary connector on the X05 rather than mini- or microUSB. The battery is preinstalled, a small rechargeable unit that slots in under the chrome-effect plastic section on the top of the scanner; also under that cover is a microSD card slot with which you can add to the native 64MB of storage. Planon claim that only 1GB or 2GB Sandisk cards have proved "reliable".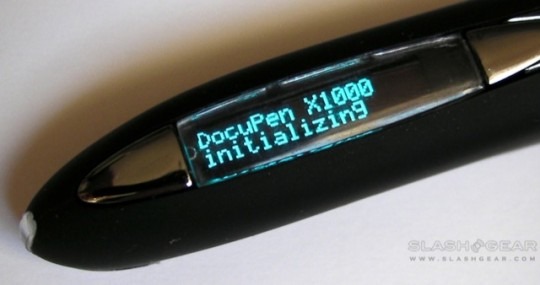 The scanner itself has four buttons and a two-line monochrome OLED display. Two of the buttons – either side of the screen – are used for scrolling through menus and selecting options, while the remaining keys toggle Bluetooth and power. The addition of the screen certainly makes using the X05 easier than some of Planon's previous models, which used an array of LED indicators instead, and it scrolls through scanning mode, battery status and memory status when powered on. It takes around four seconds to go from hitting the power key to the X05 being ready to scan, and you trigger that by pulling the scanner down the page; it starts up as soon as the rollers start to turn. Left unused for a few seconds and the scanner automatically powers off.
Using the X05 is reasonably straightforward. The default mode is black & white 300dpi TIF, but you can quickly flip through grayscale JPG or color scanning and between 150dpi, 300dpi or 600dpi resolution. There's also a Printstik mode that allows you to instantly send the most recent scan to Planon's own portable Bluetooth printer, though we didn't have a unit to test this functionality. As you might expect, black & white TIF files are the most space-conscious, with the X05's 64MB capable of holding many such scans, while at the other end of the scale a single high-resolution color scan could fill the whole memory.
You'll need a steady hand in order to scan effectively, and preferably two if you're going to avoid skew. Initially we tried gripping the document at the very top with the left hand and pulling the scanner slowly down with the right, but found it reasonably difficult to keep the bar level down the full length of the page. Scans tended to bend to one side, and while it was sufficient for quickly emailing across a B&W form photos were less successful. Better results came by fixing down the document somehow and using two hands to roll the scanner down. The OLED display warns you if you're moving too fast, but it takes around 30 seconds to cover a regular sheet of paper. After that there's a roughly 20 second pause as the X05 saves the scan before you can go again.
Where things got frustrating was in transferring files from the scanner to a computer. Planon advertise the X05 as both PC and Mac compatible, but we experienced issues with both platforms. The included driver CD was recognised in our Vista 64-bit test machine and claimed to have installed the USB driver, but when we hooked it up the system couldn't locate those drivers. Instead we had to download the latest driver package from the Planon support site, after which it was instantly recognised. Planon include an app called DocuPen which sucks all of the files from the X05 and then allows you to wipe the scanner's memory, and it works as expected; there's also the PC-only ScanSoft PaperPort SE which is a basic organisational tool for sorting scans and offering OCR.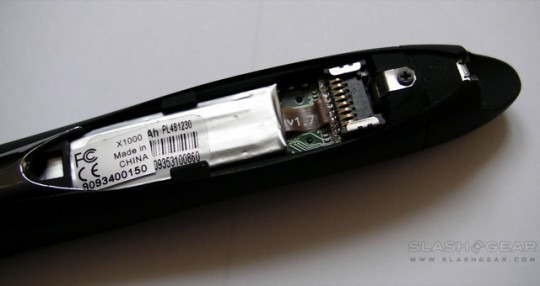 On our Mac OS X 10.6 test machine, the CD offered no drivers and we had to go to Planon's support site to find instructions. The X05 is supposed – as long as it has a memory card installed – to show up on the desktop as a removable drive when plugged in via USB; however even with the latest firmware – 9.38 at time of writing – this failed to happen. We hoped to be able to use Bluetooth instead, but while the X05 paired with the Mac we were unable to browse its storage. Meanwhile the Mac version of DocuPen for earlier Planon models would recognise the X05 but couldn't open its scans.
Bluetooth was somewhat more successful on the PC. Once paired, the DocuPen app could "see" the X05 after a Bluetooth connection with the scanner was manually made; however it was unable to trigger that connection itself. From then on the process is just as if using the USB cable. We had hoped to be able to link the scanner to a cellphone and sent files wirelessly that way; however, Planon only supply a driver for BlackBerry handsets (which we didn't have on hand to try the X05 with) and other phones, while they could see the device, were unable to actually do anything with it.
In terms of the end-results, color accuracy is surprisingly good – the Planon box, for instance, matches very well with the 300dpi scanned image in the gallery below – but try as we might it's difficult to get a consistent, non-jagged reproduction. We've no doubt that with practice you could coax reasonable results out of the X05, but this is definitely a tool for occasional or impromptu use; if you regularly need to scan documents then a flatbed scanner will be far more useful.
Unfortunately, at that point the $369.99 price is a whole lot more difficult to stomach. Planon's target market is always going to be small – not a lot of people really need a portable, battery powered scanner with wireless connectivity – but that market also has to be patient enough to work with the X05's foibles and get the best results. It can be frustrating running through a series of scans and then only discovering how patchy the results are once you finally transfer them across to the computer; still, that's an inevitable side-effect of the portability. If you've a steady hand, patience and a dire need for mobile scanning worth $370 then the Planon X05 is capable of reasonable results; everyone else would do better clearing some desk space for a larger – but cheaper – desktop flatbed.