Pixelar E-Reader Review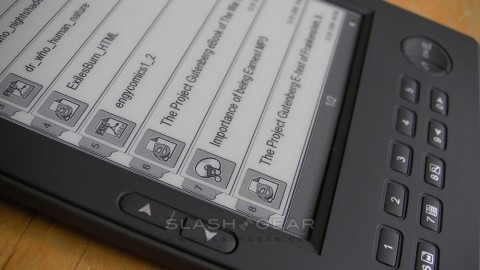 Approve of their business model or not, Amazon have pushed ebook readers into the headlines and the general awareness over the past twelve months.  Problem is, not everybody wants to be tied into Amazon's services, and only the US is catered for with the Kindle 2.  That leaves a big gap for a standalone ebook reading device, and into that gap steps the Pixelar E-Reader.  SlashGear has been testing it out.
Let's get one thing out of the way first: this is no Amazon Kindle 2.  Unlike the new ebook reader from the online retail giant, the Pixelar E-Reader has no integrated wireless, no hardware keyboard and no headline-grabbing quotes from Oprah Winfrey.  What it does offer is support for almost twenty different file types, and the ability to easily transfer your own content – or content from online – onto the E-Reader.
For what's inside the box you can watch our unboxing video below; basically you get the E-Reader and leather case, headphones, a clip-on reading light and a USB cable.  There's also an AC adapter.  The E-Reader itself measures 184 x 120.5 x 9.9 mm and weighs 220g including the preinstalled battery; up front there's a 6-inch 600 x 800 E-Ink display, with ten numbered buttons, a back and OK key underneath, and forward/backward keys to the lower left-hand side of the screen.  On the top there's an SD card slot (the E-Reader will recognize up to 4GB, and Pixelar usually include a 1GB card) and the recessed power button.
On the right-hand size there are volume up/down buttons, and on the bottom a rubber flap covers the 3.5mm headphone jack and mini-USB 1.1 port used for transferring data and recharging.  On the back are four very low profile rubber feet (which don't work exceptionally well), a tiny reset button and the battery compartment.  The whole thing is finished in matte gray plastic; build quality is reasonable, though the buttons have a reasonably loud click (in addition to a software beep that can thankfully be switched off) and the rear panel shows more flex around the edges than we'd like.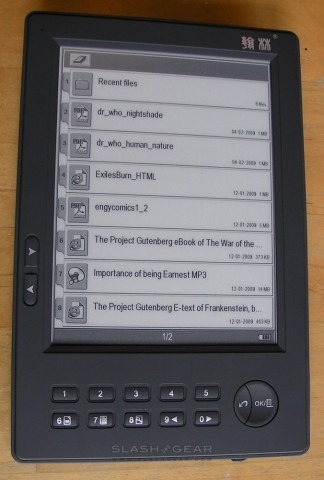 Using the E-Reader is straightforward.  It takes around eleven seconds to boot up, offering the main title menu from which you can choose to browse the whole device, look through a list of recently opened files, or change the sort order.  Content can be ordered by title, date or type; each menu entry shows the date of its creation, its size, filename and file type; you can move through the pages with the left and right buttons, and select a title by pressing the corresponding number key.
There's a long list of supported file types – PDF, MOBI, DOC, WOLF, MP3, HTML, TXT, CHM, FB2, Djvu, PNG, TIF, GIF, BMP, JPG, PPT, EPUB, LIT and PRC – and 512MB of internal memory to get you going.  Transferring content across is a case of either slotting in an SD card or hooking up the USB cable; the E-Reader gives the option of showing up as a mass storage device.  Transfers aren't as fast as if Pixelar had used USB 2.0, but considering most ebook texts aren't huge it's not so much of an issue.  We'd recommend preloading an SD card with music if you're planning on using the E-Reader as a PMP, though.
Within a text, you can page through either using the dedicated keys on the left or the '9' and '0' keys (which we found just too far across to comfortably thumb the '9' back button when holding the E-Reader with just the right hand), together with zoom between three levels (normal, close, and rotated horizontally).  Pressing the bookmark button assigns the page to a number key 1 through 5; pressing that number instantly takes you to that page.
Screen changes show the usual intermediate black flicker, as the E-Ink  refreshes.  It's initially distracting but you soon learn to ignore it.  More frustrating is the speed at which pages 'turn', which is just a little too long for our liking; we eventually trained ourselves to press the button halfway through the last sentence on the page.  The zoom control is useful but perhaps too imprecise; you'd do better to ensure that files like PDFs are laid out well before you transfer them across, as there's no granular control over zooming levels.  Two-page PDF files, for instance, can only reasonably be viewed in landscape orientation, and even then the font size is small.
Still, there's a lot to be said for being able to flick pretty much any common document or webpage over to the E-Reader.  File types unsupported can be worked around using a free PDF printer; there are several available online.  The Pixelar E-Reader accompanied SlashGear to Mobile World Congress in Barcelona, and proved very useful for storing press releases and documentation to hand.  The screen is readable and, as with most E-Ink displays, less tiring on the eyes thanks to the absence of backlight.  We're less convinced with the supplied booklight, which is relatively large and unwieldy.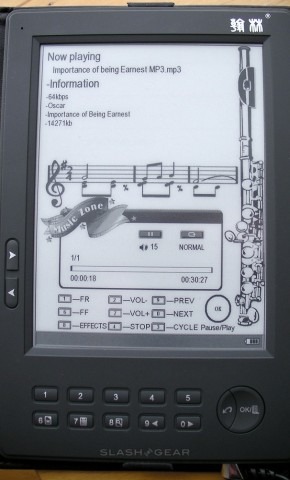 The MP3 player is relatively basic, displaying file information (including artist, track name, file size and bitrate) and offering normal, classic, jazz and rock equalizer settings.  It will continue playing, as long as there are headphones plugged in, while you read text content.
Pixelar quote up to 8,000 page turns from a full battery – less if you use the MP3 player – though since we've been plugging in the E-Reader regularly to load fresh content (and in the process topping up the battery) we've yet to run out of juice.  You could feasibly change the 3.7v 950mAh Li-Ion battery, though you'd need to carry a screwdriver around with you as the battery compartment is screwed shut.
Where Pixelar may struggle is in price.  Putting aside the Kindle 2 for the moment (which isn't even available in the UK yet), Sony's Reader eBook currently costs £224 ($317) from the official Sony Style store, including a leather case.  In comparison, the Pixelar E-Reader has a £229.99 ($324) base tag, though factor in another £14.99 ($21) for the leather case (a bundle with the case, E-Reader and light is available for £245.95).  The Pixelar bests the Sony on page turns – 8,000 versus 7,500 – and in supporting some of the more esoteric formats, but it's a tough sell against a well-recognized brand name.
We like the Pixelar E-Reader, especially as we use both PCs and Macs(the latter unsupported by the Sony eBook), but we're not sure it offers enough to sway us from the Sony brand.  It seems to be a popular design, though: we've seen the same OEM BeBook/Hanlin hardware, under different names, in various countries, all priced roughly the same.  If Pixelar can bring the price down to under £200 they'll have a far better chance of convincing buyers; there's nothing fundamentally wrong with the E-Reader experience.
Pixelar E-Reader Unboxing & Walkthrough:
[vms 20aa6c7c996a5ee53a70]